Presenting Hang Son Doong
Here is an awesome cave. Located in Vietnam, Hang Son Doong, "Mountain River cave" in Vietnamese, is the actual largest cave in the world. In 2011 we post a page about the Cueva del Fantasma which, in addition to it's cool name (It means "The Cave of the Ghost" in Spanish) it's also huge. But it's small, or at least short, compared to Son Doong Cave. Now, how large is this cave? Let's find out.
This cave is so big that it has not one, but two forests and even clouds inside it! In fact, it is so big that even a 747 could fly through its largest cavern. For example, take a look on this beautiful photo below.
Did you notice a person standing on the rocks? Yes? Ok, now we get it, moving on.
A little bit of its history
The cave was discovered by a local man named Hồ-Khanh in 1991 but, due to the steep descent, no one there wanted to explore it further, and this place was left unnoticed to the world. It was just another cave until a group of scientists from the British Cave Research Association, led by Howard Limbert, conducted a survey in Phong Nha-Kẻ Bàng in April 2009 and made the cave internationally known.
The biggest chamber of Son Doong is about 5 kilometers (3.1 miles) long, 200 meters (660 feet) high and 150 meters (490 feet) wide.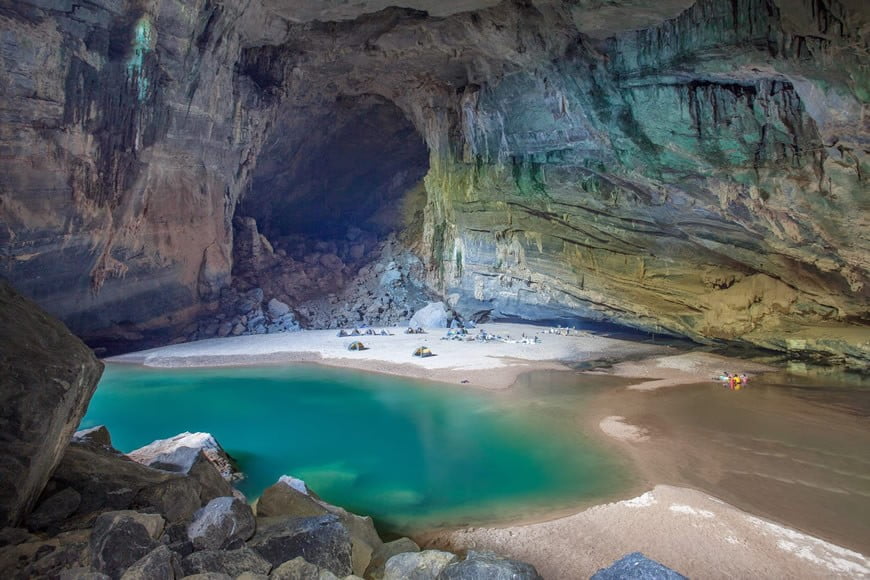 The entire cave runs for approximately 9 kilometers (5.6 miles) and is punctuated by 2 large dolines, which are areas where the ceiling of the cave has collapsed. These areas allow sunlight to enter sections of the cave and has resulted in the growth of trees as well as other vegetation.
Continue Reading