Bordered by the Andes in the west and the South Atlantic Ocean to the east, Argentina is huge, and the contrasts of landscapes are extreme. The spectacular Andean mountain range, with jagged peaks and deep valleys, as well as breathtaking fjords and snow-capped volcanoes serve as background for many lakes and lagoons. Colored in deep green or turquoise hues, they are among dramatic landscapes, such as the high altitude deserts of Catamarca in the north and the alpine glaciers of Patagonia in the south. Argentina's lakes are some of the most scenic of all found in the world, and certainly a photographers' paradise. Enjoy these 50 beautiful lakes in Argentina.
1 – Laguna de los Tres (De los Tres Lagoon) – Los Glaciares National Park
Laguna de los Tres is a crystal blue lagoon that offers close and outstanding views of the Cerro Fitz Roy. "Los Tres" refers to the three peaks that you can see from the lagoon's shore. From El Chaltén, the 8-hour round trip is really worth the effort due to its incredible views.
2 – Laguna Sucia (Sucia Lagoon) – Los Glaciares National Park
From Laguna de los Tres, in Los Glaciares National Park, an additional 500-meter trail leads to a spectacular cliff side overview of the turquoise Laguna Sucia. It is located 25 km from El Chaltén.
3 – Laguna Capri (Capri Lagoon) – Los Glaciares National Park
Do you want to take amazing photographs of Mount Fitz Roy without too much effort? After a 2-hour easy walking from El Chaltén, you arrive at Laguna Capri, which has majestic views to the Fitz Roy range.
4 – Lago Mascardi (Mascardi Lake) – Nahuel Huapi National Park
Located 30 km from San Carlos de Bariloche, Lago Mascardi is also known as 'Seven Colors Lake' because its color changes according to the season and the time of the day. In the middle of the lake lies a heart-shaped island called Isla Corazón.
5 – Lago Fagnano (Fagnano Lake) – Tierra del Fuego National Park
Lago Fagnano is a gorgeous lake of glacial origins located on the main island of the Tierra del Fuego, 65 km from Ushuaia. Spanning across approximately 100 kilometers, its vibrant blue shades contrast beautifully with the high Patagonian Mountains.
6 – Lago Huechulafquen (Huechulafquen Lake) – Lanín National Park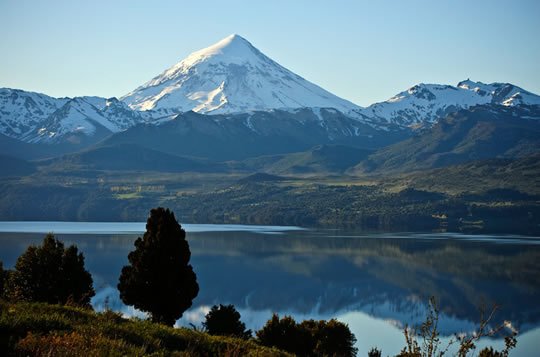 Lago Huechulafquen is a glacial lake located in the Andean mountains, 25 km from Junín de los Andes. Lanín Volcano composes a scenic background to the lake.
7 – Laguna de Llancanelo (Llancanelo Lagoon) – Malargüe
Located 75 km from the city of Malargüe, Laguna de Llancanelo is an oasis amid a semi-desert landscape. It is a shelter to a variety of bird species, including flamingos.
8 – Lago Epuyén (Epuyén Lake) – Chubut
Amidst beautiful scenery of forests, Lago Epuyén is a crystal clear blue lake located 25 km from El Bolsón.
9 – Lago Cardiel (Cardiel Lake) – Santa Cruz
Lago Cardiel has turquoise waters that contrast with Mount El Puntudo and the gray Patagonian landscape. Located 75 km from Gobernador Gregores, the lake hides an enormous concentration of fish, which makes this a paradise for fishing enthusiasts.
10 – Lago Belgrano (Belgrano Lake) – Perito Moreno National Park
Located 330 km from the town of Perito Moreno, the bright blue water of Lago Belgrano is absolutely stunning. There are rock paint sights in the vicinity of the lake.
Continue Reading