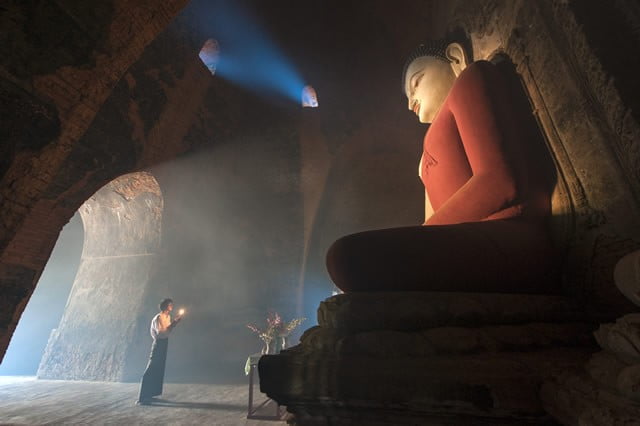 The Pahtothamya Temple (also spelt Pathothamya) is a small, single-storey temple located to the west of Thatbyinnyu and Nathlaung Kyaung temples. One of the oldest temples in Bagan, its interior is dimly lit, typical of the early type of Pyu-influenced temples with their small, perforated stone windows. No registration can be dated precisely though, and some archeologists mark the temple was built during the reign of King Sawlu by the references of its inner mural paintings, which dates back only to the 11th Century.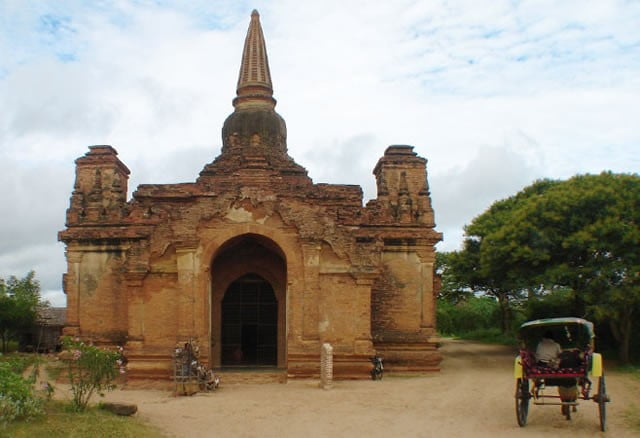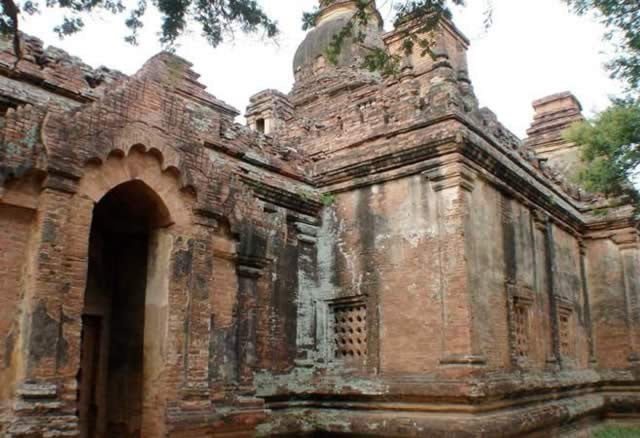 The numerous mural paintings in the interior walls of the Pahtothamya are among the earliest of Bagan. Although the paintings that depict scenes from the previous lives of Buddha are not in good condition, they impress with their size and color.
The temple has a square main block and a rectangular vaulted hall that lengthens towards the East. There is a single square room surrounded by a corridor in the center of the temple. This room enshrines three images of the Buddha in the "Calling the Earth to witness" posture. In the dark inner sanctum, two small Buddha statues flank the large central image seated on a high pedestal, wearing a red robe.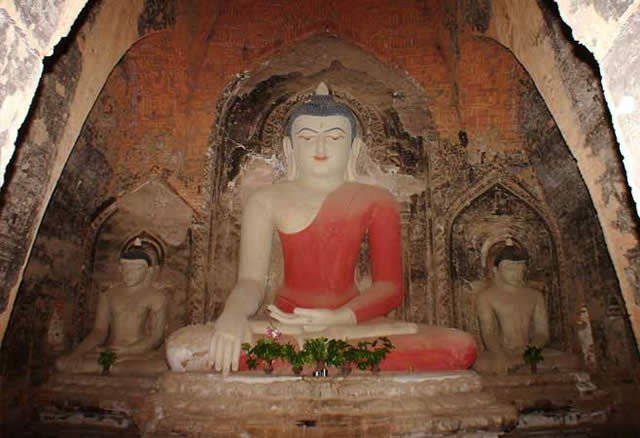 There used to be Buddha statues in all niches inside the temple. Today there are only five niches enshrining original stone statues of Buddha due to problems with thefts. At least, they are in remarkable condition. And to preserve the remaining images, murals and inscriptions, the temple is often locked.
A spiral staircase leads to the terrace on top of the temple where there are small surrounding stupas, inside of which are Buddha statues of plaster moulding. Also on the roof of the Pahtothamya is a disc shaped box called Harmika, in which are enshrined relics of the Buddha.
Pahtothamya Temple may pass unnoticed by tourists, since there are lots of larger temples nearby. But its incredible interior natural lighting system really stands out. The temple's interior is fairly dark, so in each of its four walls were constructed five perforated brick windows in order to let the sunlight beans comes in through. Skylights through shrines on the terraces above also light the main sanctuary. And only during one week each year, the morning sunlight illuminates directly the large Buddha image.
Pahtothamya Temple Location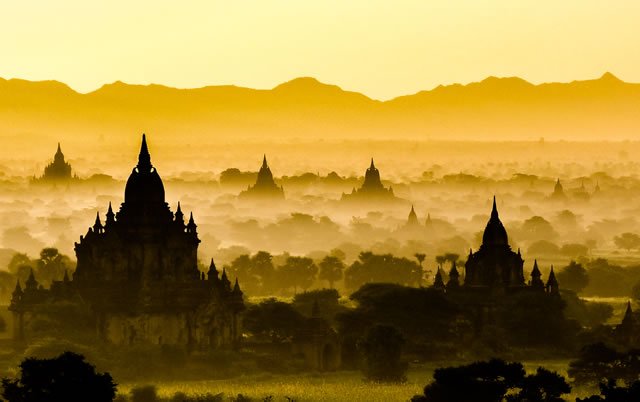 Return to Top Must-See Temples in Bagan