This is the second post of the series I started with Top Waterfalls in the World 2 🙂. It's amazing to think that, even with this long list, there are much, much more. Please tell me if you like it, if you agree with this list, or if I did not include an specific you may want to be posted. Maybe I can include yours and other waterfalls in a new post. So, no more talking for now, we really hope you enjoy it!
Located just northwest of Cookevill, Tennessee, within the boundaries of Cummins Lakes Provincial Park, Cummins Falls is the largest waterfall of the Cummins River with 23 meters (75 ft.) in height. Situated between the two Cummins Lakes, the falls drop directly out of one, and into the other. Lying in the rocks, its dramatic topography resembles a stair.
Located near Skógar, the impressive Skógafoss is one of the biggest and most beautiful waterfalls in Iceland with a width of 25 meters (82 ft.) and a drop of 60 meters (200 ft). It has a vast panoramic view and it is surrounded by lush green grassland. Due to the amount of spray the waterfall consistently creates rainbows on sunny days.
The Chitrakoot Falls (alternative spelling Chitrakut) is located near Jagdalpur, in the state of Chhattisgarh. It is the largest waterfall in India. During monsoon, it widens up to 150 meters and its waters turn wild and violent. During winter season, the water becomes calmer and lighter and the waterfall looks different, with fewer and delicate falls, a delightful time for photographers.
Located in the village of Engenho II, 25 km (15 mi) from Cavalcante, Chapada dos Veadeiros, in the state of Goiás, Cachoeira de Santa Bárbara (in English, Santa Barbara Waterfall), with a drop of 30-meter (98 ft.) high, enchants its visitors with its incredible turquoise natural pool suitable for swimming all year round.
---
---
Gullfoss (in English, The Golden Waterfall) is Iceland's most famous waterfall and one of the most popular tourist attractions in the country. It is also by far Europe's most powerful waterfall. Located in the canyon of the River Hvítá, it is 32 meters high, 20 meters wide and it drops into a narrow canyon that's up to 70 meters deep and 2.5 kilometers long.
King George Falls is a magnificent dual waterfall that drops 80 meters vertically into a dramatic gorge. It is located on the King George River in Western Australia. The scenery is stunning and the grandeur of the orange gorge increases as you get closer to the waterfalls.
Rheinfalls or Rhine Falls is the largest waterfall in Europe. Located near the town of Schaffhausen in northern Switzerland, it is 150 m (450 ft) wide and 23 m (75 ft) high. Although it is fairly low in height compared to other waterfalls, the amount of river water that cascades over the rocks is more than enough to discourage some visitors from getting a closer view of the falls.
The breathtaking Snoqualmie Falls is a waterfall located between Snoqualmie and Fall City, Washington. The historic Salish Lodge & Spa overlooks the waterfall cascading 82 meters (268 ft.) over granite cliffs.
At 46 meters (150 ft.) tall, Emperor Falls is the largest and best-known waterfall in Mount Robson Provincial Park. To complement the scenery, Mount Robson, with its piramide shape, stands above and behind the waterfall, providing a sigh even more extraordinary.
---
---
Millaa Millaa Falls, one of the most photographed waterfalls in all of Australia, are located near the town of Millaa Millaa, Far North Queensland. The scenic 18.3 metres (60 ft.) high falls cascades into a pool suitable for swimming. Something special about this waterfall is the magnificent lush tropical foliage that surrounds it.
Pagsanjan Falls is one of the most famous waterfalls in the Philippinnes. The highlight of this waterfall is the bamboo raft (or balsa) ride, which goes directly under and behind the falls, where there is a huge cave called Devil's Cave.
Ruby Falls is a 44 meter (145 ft.) high underground waterfall located about 341 meters (1120 ft.) below the top of Lookout Mountain, near Rock City and Chattanooga, Tennessee, USA. This surprising waterfall comes from the roof inside a cave, is collected in a pool in the cave floor and then continues through the mountain until finally join the Tennessee River. Electric lights were installed in the cave to turn it attractive colored.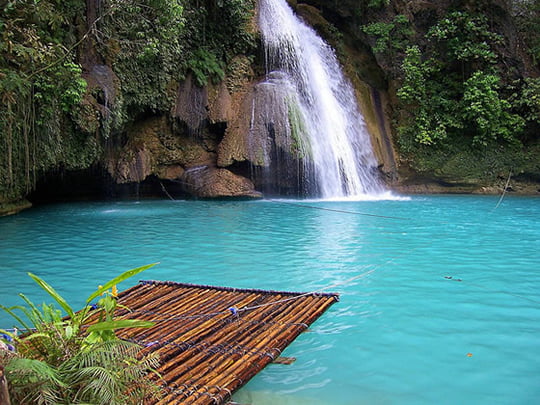 Located near the town of Badian, Cebu Island, Kawasan Falls is actually a hierarchy of three waterfalls, of which the first is the largest and usually the most crowded, however the scenery gets wilder and more impressive the further up you go. Volcanic rock formations make up 11 meters (38 ft.) deep stunning turquoise pools, which are surrounded by lush, green tropical vegetation. A bamboo raft can take you for a refreshing "waterfall massage" under the falling water.
Located 7 km (4.3 mi) from Ljubuski, Kravica Waterfall (also called Kravice Waterfall) stretches over 100 meters (328 ft.) across and drops over 25 meters (82 ft.) into a crystal-green natural pool surrounded by a horseshoe-shaped canyon.
---
---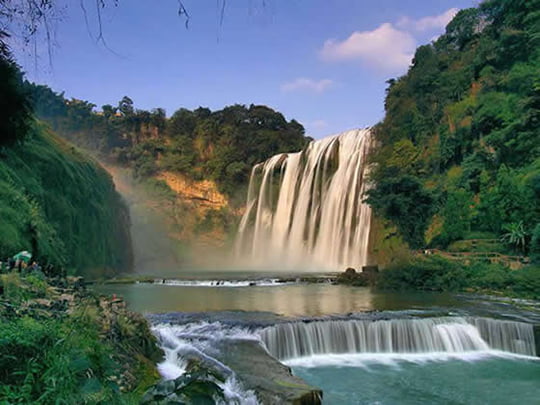 Located 20 km from Luoping county town, in a valley with a length of 4 km (2,5 mi) and a depth of 200 meters (656 ft.), Jiulong Waterfall is made up of 10 cascades, known as Nine-Dragon Waterfalls, each forming a pool underneath.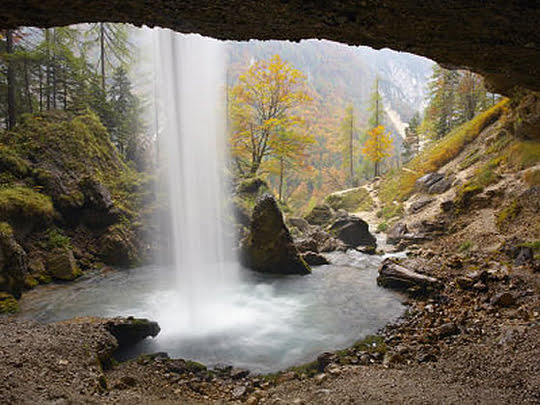 Located in the Julian Alps, about 5 km (3 mi) from Mojstrana, Pericnik Waterfall drops 16 metres (52 ft.) down to the first ridge from where it then descends 52 meters (170 ft.) down the bottom waterfall. A beautiful feature that enhances its visitors is a cave situated at the bottom of the falls, which allows one to walk behind it and see the waterfall through a different angle.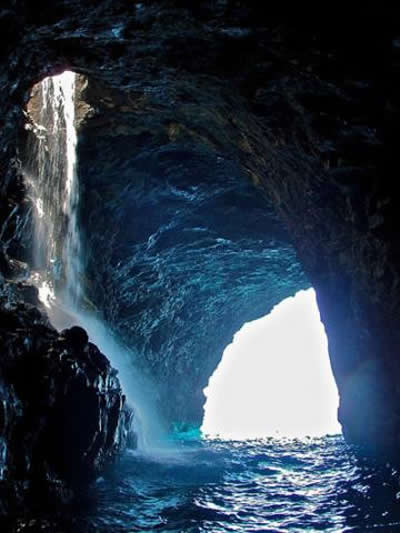 Located along the Na Pali Coast on the island of Kauai, this remote cave is accessible only by zodiac raft or kayak. A fissure in the roof of the volcanic rock allows a waterfall to drop into the amazing cavern. It's a beautiful sight in the bright sunlight when the sun's reflection turns the ocean's water into a myriad of blues and greens.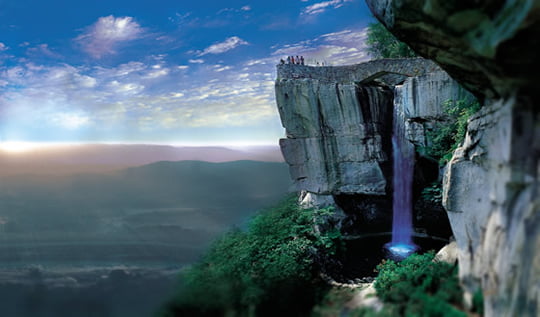 The High Falls of the Lookout Mountain is a man-made waterfall located in the Rock City, Chattanooga, Tennesse. It is an impressive feat of engineering approximately 43 metres (140 ft.) high that falls into a base like a small pool.
Papalaua Falls are located in the deep Papalaua Valley, near Halawa, northern part of Moloka'i Island. Its surrounding landscape is characterized by extremely tall sea cliffs, deep valleys and lush green vegetation. It waterfall flows for 501 metres (1,250 ft.) along a very steep fissure made by the force of the stream.
---
---
The extraordinary Trummelbach Falls (In German: Trümmelbachfälle), near Lauterbrunnen, are a series of ten glacier-waterfalls hidden inside a mountain. It is an unusual place where water itself has cut its way through the hard rock, creating deep crevices and caves. The only way to see the chutes is going on a subterranean walk through a man-made series of tunnels that let visitors see the cascades be shooting out through the confined space.
Svartifoss (Black Fall) is a waterfall in Skaftafell National Park, framed with dark lava columns, which give rise to its name. This waterfall stands out thanks to the very pronounced hanging hexagonal basalt columns underlying it that resemble organpipes.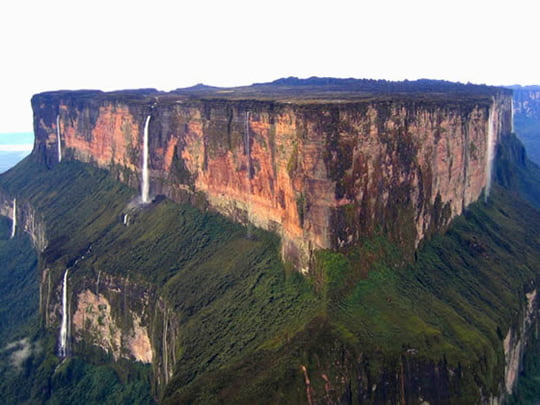 From the top of Mount Roraima, millions of liters of water are drained, forming several incredible high waterfalls (named "Roraima Falls"), which drop the 400-metre (1312 ft.) tall cliffs of the tepuy.
Framed by graceful columnar basalt formations, the Toketee Falls are located east of Roseburg, Oregon. These two-stepped falls are in a carved sinuous gorge that results in a waterfall of 36 meter (113 ft.) in height.
The Glory Hole Falls is located near Swain, in Newton County, Arkansas. Although it is in a little-visited place, this waterfall seems unreal as a creek pours directly through a perfectly rounded hole 7,62 meters (25 ft.) from the ceiling of a cave.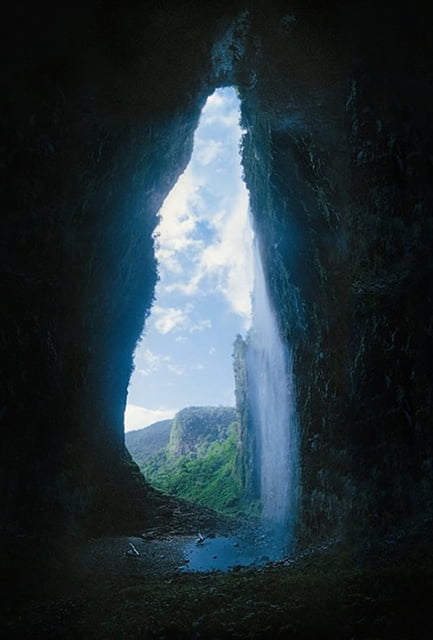 Discovered in 2006, Cueva del Fantasma ("Cave of the Ghost" in Spanish) is a giant cave in southern Venezuela, so huge, that it is big enough for two helicopters land on the floor. Located in a remote region, this spectacular waterfall comes down from its wall forming a pond at the floor and making the image of the cave even more surreal.