Htilominlo Temple is known as the last Myanmar style temple built. It was built during the reign of King Htilominlo (also known as Nandaungmya) in 1218.
It is said that the Htilominlo Temple was built on the same place where he was selected as the next King by his father using a white umbrella as a selector. The legend says there were five princes, all of them were standing in a circle and the white umbrella in the middle. The next prince would be the one who the white umbrella had bent.
This 46-meter-high (151 feet) Buddhist temple has three stores, was built using red brick and is similar in design to the earlier Sulamani Pahto and Gawdawpalin temples, both built by Htilominlo's father, the previous king.
On the top of the Htilominlo temple there is an ornamental tower, a sikhara, which is similar to the one on the Ananda temple, with the exception that it is not gilded.
There are four Buddha statues on the lower and upper floors, each one facing one side of the temple.
The complex is surrounded by wall and inside, around the temple, you have a local market with lots of souvenir stalls selling handicrafts.
Unfortunately, many of the original decoration as well as the temple per se were damaged after the last earthquake in 1975. But fragments of the original plaster carvings, glazed sandstone decorations as well as several old horoscopes, painted to protect the building from damage can be found on the walls of the temple resisting to the time, nature and men.
To protect the temple from further decay, the terraces as well as the second floor are closed and it is no longer possible to climb to the top.
More information on Travel Myanmar
Htilominlo Temple Location
North East of old Bagan on the way to Nyaung U village
Temples Nearby: Upali Thein, Mya Zigon Hpaya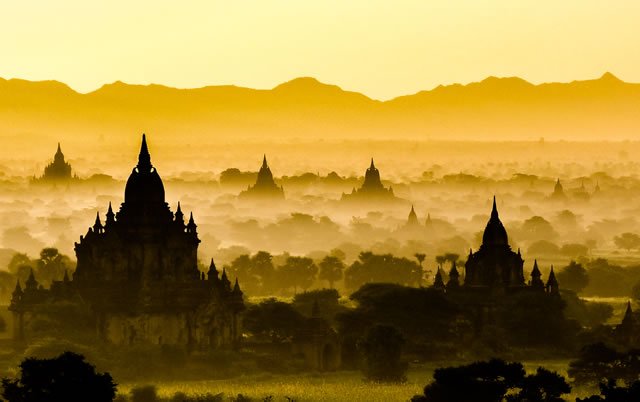 Return to Top Must-See Temples in Bagan