The Sulamani is a beautiful temple where the sun's rays shine through the outer arches onto the central core, creating a beautiful and warming glow. It was also known as crowing jewel and it is one of the most notorious temples in Bagan.
Built on king Narapatisithu reign (1174-1211) the Sulamani is probably the most important temple of the late period of Bagan monument building.
Considered one of the best works using bricks in Bagan, the temple has some influence from the larger Dhammayangyi and it served as a direct model to the Htilominlo Temple.
The story about the Sulamani says that king Narapatisithu was returning from climbing Mount Tuywin, and bumped into a beautiful ruby shining inside a hole. He so announced, "This is a sign for me to make a work of merit here!"
Sulamani is a walled complex and it used to house a number of other buildings like the monastery Sulamani Kyaung, structure that the remains are still visible, and a still functional water tank.
On the ground floor, every one of the four entrances has a big Buddha statue, there are frescoes painted on the walls as well as on the ceiling.
Ornate religious structures with the stories about the previous lives of Buddha (Jataka Tales) depicted on plaques was a tradition for the most important and largest temples in Bagan, and on Sulamani's base and terraces is still possible to see those tiles on glazed terracotta plaques.
Not long ago (after an earthquake in 1975), a big restoration took place at the temple and new bricks and stones were used. Around 40% of the original coverage is still in good conservation state though.
Sulamani Temple Location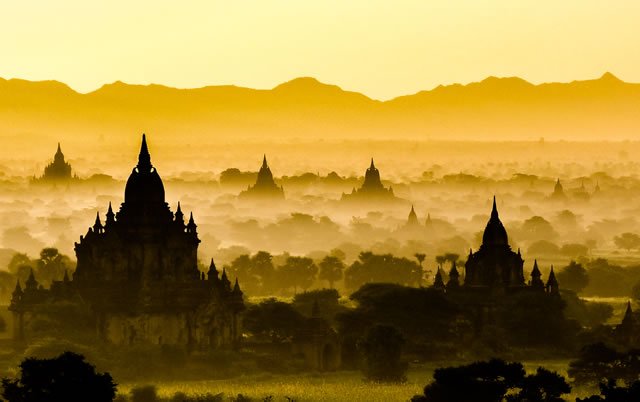 Return to Top Must-See Temples in Bagan