King George Falls is a magnificent dual waterfall that drops 80 meters vertically into a dramatic gorge. It is located on the King George River in Western Australia and it is a highlight of the Kimberley Coast.
You can join a boat cruise that takes you right close to the cascading waterfalls and swim in a multitude of rock-pools at the top of the falls, or take a scenic flight to see it from another incredible perspective.
The scenery is stunning and the grandeur of the orange gorge increases as you get closer to the waterfalls.
King George Falls Location
The nearest populated place is the village of Kalumburu which is 78km away. Cruises along the King George River leave from Darwin, Broome and Wyndham. The boats enter through Faraway Bay and journey 12 km up the river until reach the waterfalls. For more information visit this website: cruiseaway.com.au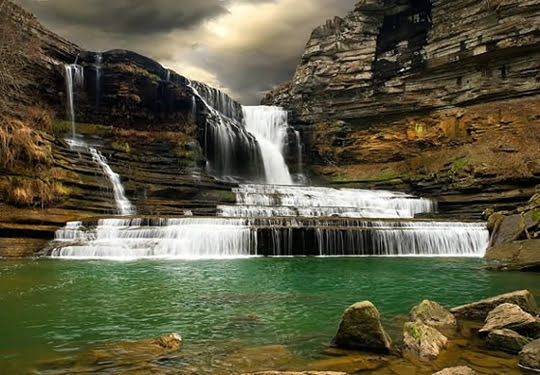 Return to Top Waterfalls in the World 2