Rheinfalls or Rhine Falls is the largest waterfall in Europe. Located near the town of Schaffhausen in northern Switzerland, it is 150 m (450 ft) wide and 23 m (75 ft) high.
Although it is fairly low in height compared to other waterfalls, the amount of river water that cascades over the rocks is more than enough to discourage some visitors from getting a closer view of the Rheinfalls. In the winter months, the average water flow is 250 m³/s, while in the summer, 700 m³ of water rushes over the cliff each second.
What is intriguing about Rheinfalls is the Rheinfallfelsen, a large limestone rock that defies the powers of the rushing water to tumble downstream. It is the remnant of the original limestone cliff that eroded and collapsed. The rock has eroded very little over the years because relatively little sediment comes down the Rhine River from Lake Constance.
You can stand high above Rheinfalls or take a ride on one of the daredevil boats that brings you right below the powerful falls and disembarks at the mighty rock in the midst of the waterfall, which has a stairway that leads to the top, so visitors can experience the sensation of the crashing water all around them.
There are many hiking trails, a castle, a restaurant and viewing platforms on both sides of the Rhine River that offer spectacular views of the waterfall. The 'Känzeli' observation platform is the most spectacular viewpoint that was built directly beside the rushing water. There is also a railway bridge built over the river along with walkways on both sides of the tracks.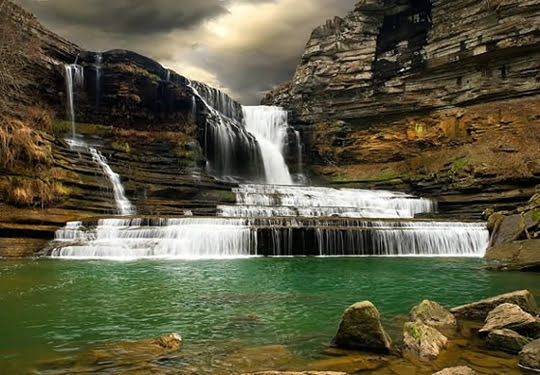 Return to Top Waterfalls in the World 2