Among Bagan's temples, Shwesandaw Pagoda is one of the highest, and that makes it one of the most famous viewpoints of the region. This imposing Buddhist structure is visible from far away rising from the plains of Bagan.
Following an ancient Pyu tradition, the stupa is situated outside the city walls, where along with four other pagodas, including the Shwezigon, it provides spiritual protection for Bagan.
King Anawrahta, founder of the Bagan Kingdom, built Shwesandaw Pagoda in 1057. After his conquest of the Mon Kingdom of Thaton, the king constructed the temple to enshrine hair relics of the Gautama Buddha, which were brought from the defeated empire.
In terms of architecture, the pagoda contains a series of five terraces leading to a cylindrical stupa topped by an ornamental spire in the shape of a ceremonial umbrella, which is called hti. The original hti was toppled by the 1975 earthquake and can still be seen lying on the far side of the pagoda compound.
The corners of the pagoda's five terraces once were adorned with statues of Ganesh, the Hindu God with the elephant head, since several Hindu deities were worshipped in Bagan before the arrival of Buddhism.
Till 1957, the pagoda's terraces were adorned with hundreds of terracotta plaques depicting several Jataka tales, the stories about the previous lives of the Buddha. Unfortunately, nothing more is left today. Due to a recent renovation, traces of those architectural motifs and sculptures have been lost. Dozens of bronze and stone Buddha images found at the pagoda during the restoration work were moved to the Bagan Archeological Museum.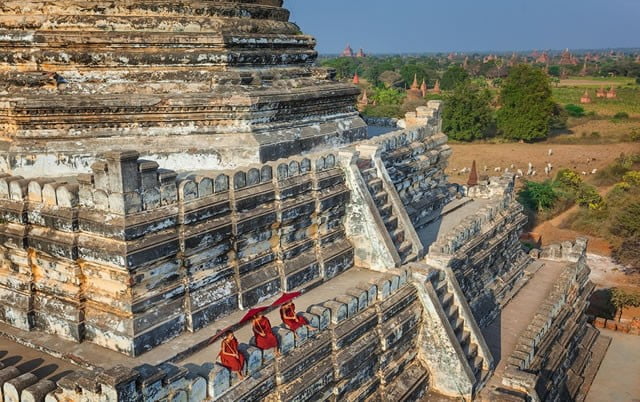 This 11th century pagoda is one of the few at Bagan that you can climb up. One of its unique features is that there are stairs on all its four sides leading right up to the fifth terrace. And this definitely makes it a lot easier to get up and down the levels when there are lots of tourists.
Be aware that steps to climb to the top are very narrow and steep, so climbing is hard for young children and older travelers. But it's very worth the effort, as the 360 degree views are just breathtaking, with stupas, pagodas and temples strewn across Bagan`s plains for as far as the eye can see. This place gives you a good idea of how vast this area is and how many wonderful sights there are.
Shwesandaw Pagoda has a convenient location between the Old Bagan area and grand temples like Dhammayangyi and Sulamani, so it is a very popular place to see sunrise and sunset in Bagan.
Shwesandaw Pagoda Location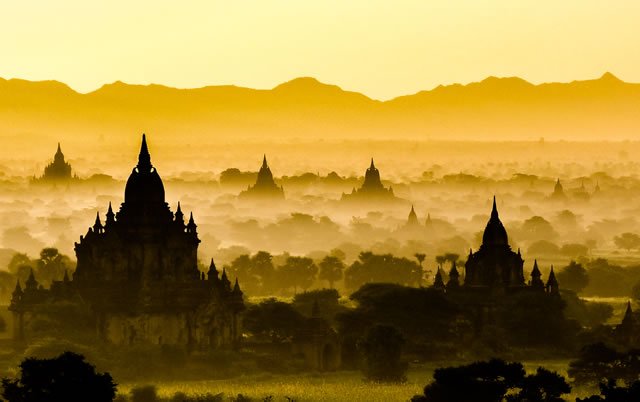 Return to Top Must-See Temples in Bagan