The Baatara Gorge Waterfall or the Baatara Pothole Waterfall (one of my favorites, if not the most), is located in the village of Balaa, between the cities of Laqlouq and Tannourine, Lebanon. The location is also known as the "Three Bridges Chasm" (in French "Gouffre des Trois Ponts").
This unexpected waterfall drops 255 metres (837 ft.) into a cave and falls behind three natural bridges, which raise one above the other and overhang the chasm descending into Mount Lebanon. It can only be seen during the months of March and April, when the snows are melting.
---
---
The area is very popular for sport activities and you can find lots of people with climbing gear on the surrounding hills.
It is also possible to climb to the various levels of the cavern with no special equipment. But you have to be very careful exploring it as the ground is slippery at some parts.
Tips and Advices
The best time to go there to see the waterfall certainly is in spring, when the melting snow makes the waterfall flows stronger.
Although it is possible to camp there, you may prefer to book a hotel since it's an easy drive from Byblos or Batroun by car.
Nearby hotels like the Douma Hotel and Byblos Sur Mer can surelly provide you excursions and all info needed.
The best time of the day for taking pictures (possibly) is in the afternoon. The first half of the day the waterfall appears against the sun, which gives you a hard time to take good pictures of it.
Baatara Gorge waterfall map and location
Baatara Gorge Waterfall, Batroun, Lebanon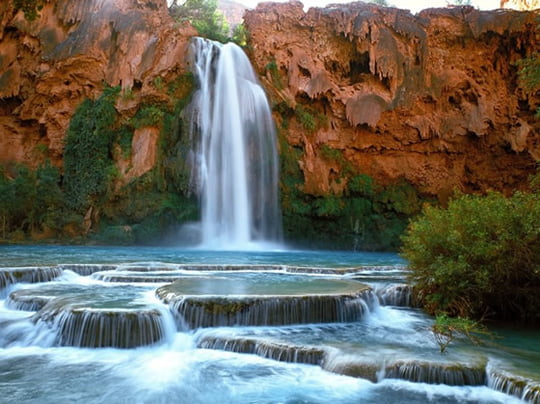 Return to Top Waterfalls in the World