Infinity Pools
According to Wikipedia: "Infinity pools (also named negative edge, zero edge, disappearing edge or vanishing edge pools) are swimming or reflecting pools which produce a visual effect of water extending to the horizon, vanishing, or extending to "infinity". One type of location in which the effect is particularly impressive is where the infinity edge appears to merge with a larger body of water such as the ocean, with the sky."
Infinity pools are visually stunning, as the swimming pool appears like the edge vanished and the pool stretched into the horizon or to infinity. There's no doubt they're the most beautiful man-made pools in existence. And what if, beyond all, the infinity pool is integrated in a natural paradise landscape?!!!
The Infinity pools listed below overlook not only tropical paradises, but also the skyline of a big city, or the dramatic view from a high cliff, or the African savannah and even deserts.
These marvels are very expensive and require extensive structural, mechanical and architectural detailing to create their incredible illusion of infinity. They are usually found nowadays in gorgeous locations like exotic resorts and luxurious places around the world.
So, who has never dreamed of enjoying the most luxurious places in the world and bathe in an infinity pool that seems to merge with the sea, the sky or the spectacular scenery around? Well, this is a luxury not available to everyone, so let's dazzle us with some of the most amazing photos of infinity pools around the world.
The Top 50 Infinity Pools in the World
1 – Marina Bay Sands Infinity Pool – Singapore
Read more about Marina Bay Sands Infinity Pool
A 500-foot-long infinity pool set on the 55-Storey Marina Bay Sands Hotel
Check prices and booking options: Marina Bay Sands
---
2 – Jade Mountain Resort – St. Lucia – Caribbean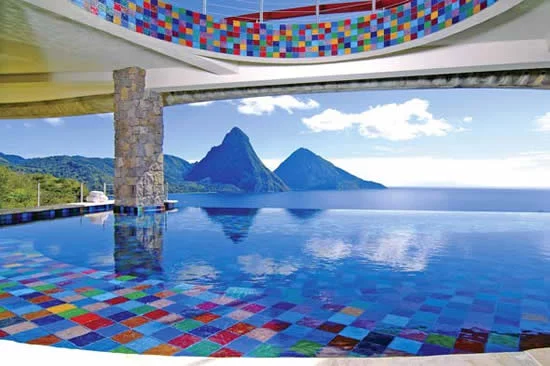 Jade Mountain Resort Infinity Pool overlooking the Pitons in Caribbean
Check prices and booking options: Jade Mountain Resort Soufriere, Soufriere, St Lucia
---
---
3 – Conrad Maldives Rangali Island – Maldives
Where does the pool begin, where does it end?
Check prices and booking options: Conrad Maldives Rangali Island, Rangali, Maldives
---
4 – Anantara Golden Triangle Resort – Thailand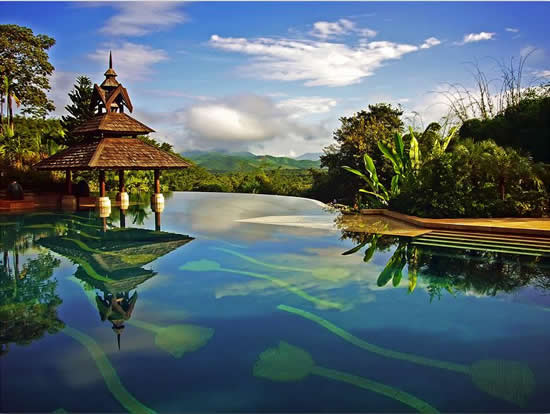 A verdant Infinity Pool in Thailand
Check prices and booking options: Anantara Golden Triangle Elephant Camp & Resort, Chiang Saen, Thailand
---
5 – Astarte Suites Hotel – Santorini – Greece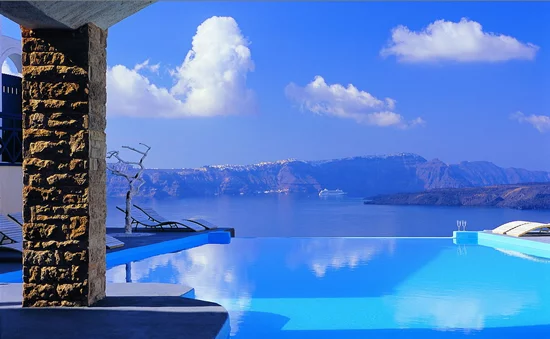 Astarte Infinity Pool mimics the blue of the Santorini ocean
Check prices and booking options: Astarte Suites Hotel – Santorini – Greece
---
6 – Casa Kimball – Dominican Republic – Caribbean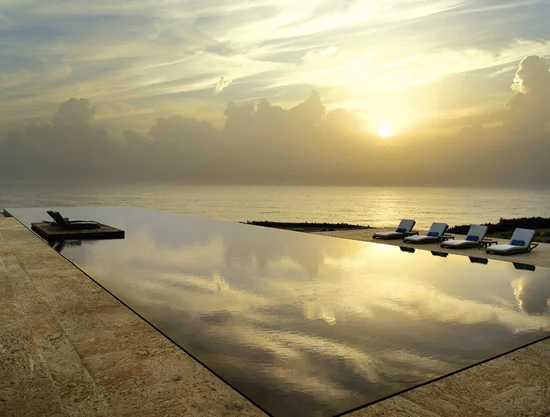 A mirrored Infinity Pool in Casa Kimball
---
---
7 – Four Seasons Resort Maldives at Kuda Huraa – Maldives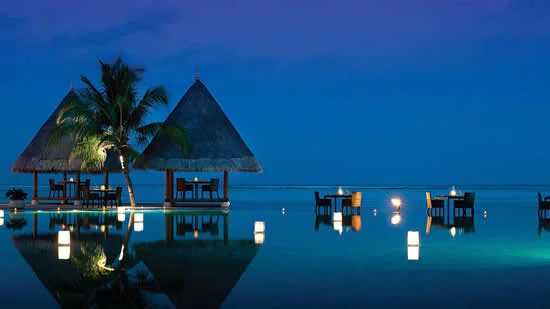 Maldives at Kuda Huraa Infinity Pool at night
Check prices and booking options: Four Seasons Resort Maldives
---
8 – The Cambrian Adelboden Hotel & SPA – Switzerland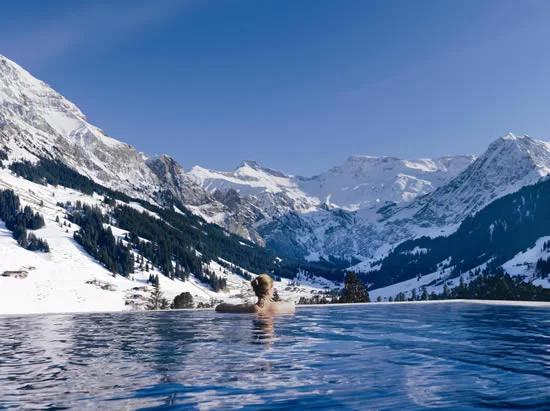 Infinity Pool in the Swiss Alps
Check prices and booking options: The Cambrian Adelboden Hotel & SPA
---
9 – Cavo Tagoo Hotel – Mykonos – Greece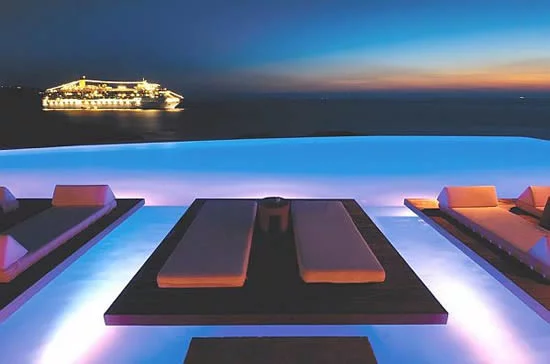 Magic Lit Infinity Pool
Check prices and booking options: Cavo Tagoo Hotel
---
10 – Infinity Pool at Matamanoa Island Resort – Fiji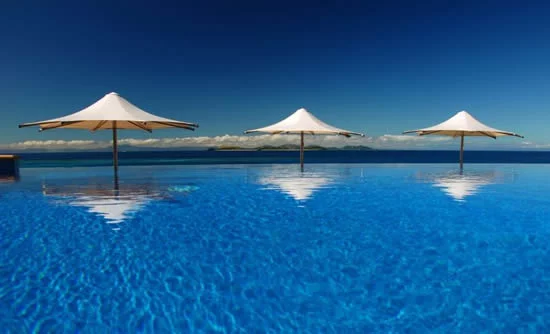 Floating sun umbrellas Infinity Pool
Check prices and booking options: Matamanoa Island Resort
---
---
11 – Crown Macau Hotel – Macau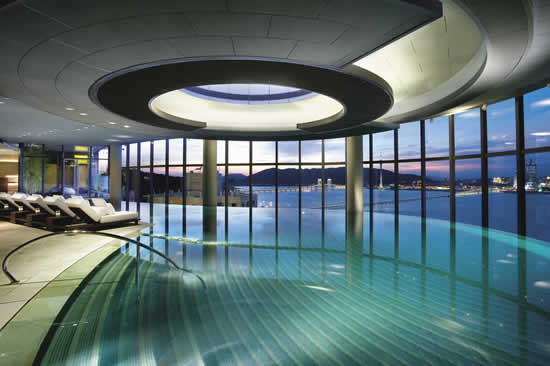 A 16th-floor indoor Infinity Pool overlooking Macau Harbour
Check prices and booking options: Crown Macau Hotel
---
12 – Intercontinental Bora Bora Resort & Thalasso Spa Hotel – Bora Bora – French Polynesia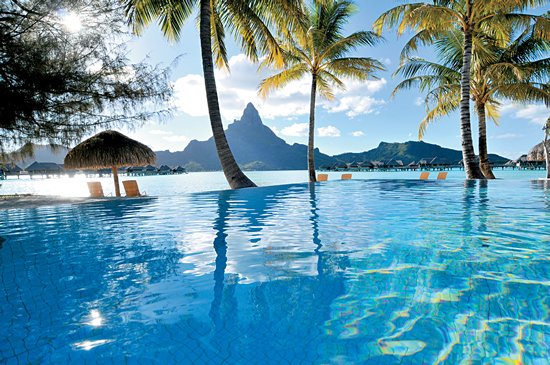 Bora Bora Infinity Pool
Check prices and booking options: Intercontinental Bora Bora Resort & Thalasso Spa Hotel – Bora Bora
---
13 – Ubud Hanging Gardens Luxury Hotel and Spa Resort – Bali – Indonesia
A multi-leveled infinity pool that looks like a natural cliffside, mimicking the surrounding hills
Check prices and booking options: Ubud Hanging Gardens Luxury Hotel and Spa Resort – Bali
---
14 – Costa Careyes Villa – Mexico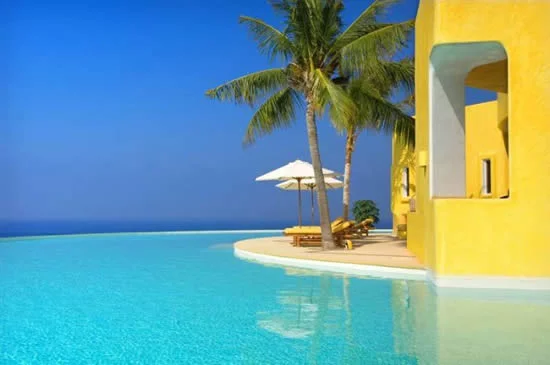 A colored Infinity Pool in Mexico
Check prices and booking options: Costa Careyes Villa
---
15 – Four Seasons Resort Maui at Wailea – Hawaii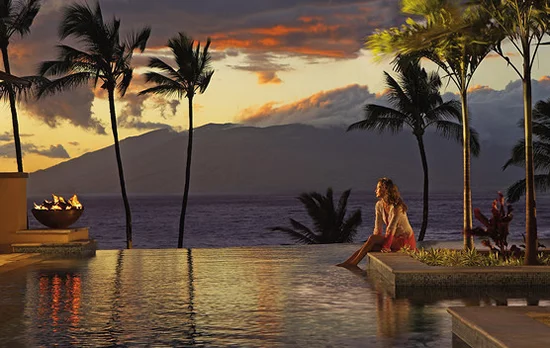 A Hawaiian Infinity Pool
Check prices and booking options: Four Seasons Resort Maui at Wailea
---
---
16 – One & Only Resort Reethi Rah – Maldives
Maldives Infinity Pool
Check prices and booking options: One & Only Resort Reethi Rah
---
17 – Hotel Riu Palace Las Americas – Cancun – Mexico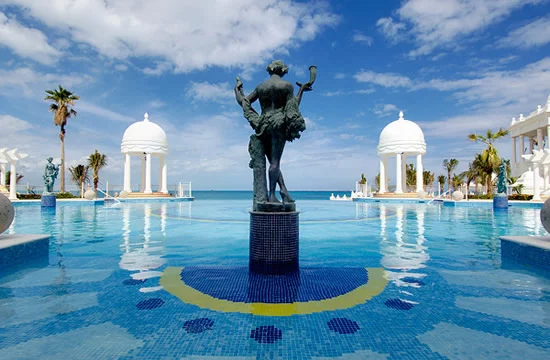 A symmetric Infinity Pool in Mexico
Check prices and booking options: Hotel Riu Palace Las Americas
---
18 – Amanyara Resort – Turks & Caicos – Caribbean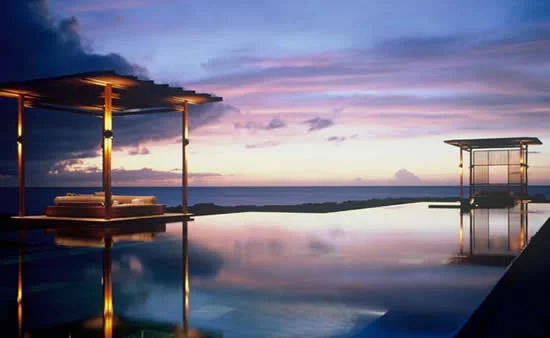 Caribbean Infinity Pool merged with heaven
Check prices and booking options: Amanyara Resort – Turks & Caicos
---
19 – Elounda Gulf Villas & Suites – Crete Island – Greece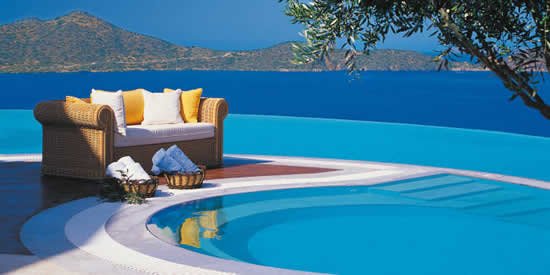 Greek Infinity Pool facing the Mediterranean Sea
Check prices and booking options: Elounda Gulf Villas & Suites
---
20 – Infinity Pool at Alila Ubud Resort Hotel – Bali – Indonesia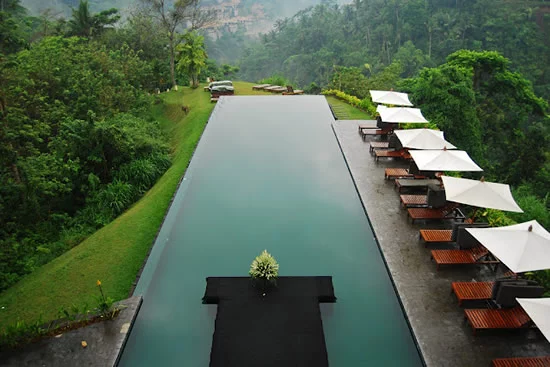 Smooth Infinity Pool in Indonesia
Check prices and booking options: Alila Ubud Resort Hotel
---
---
21 – Le Meridien Cancun Resort & Spa – Cancun – Mexico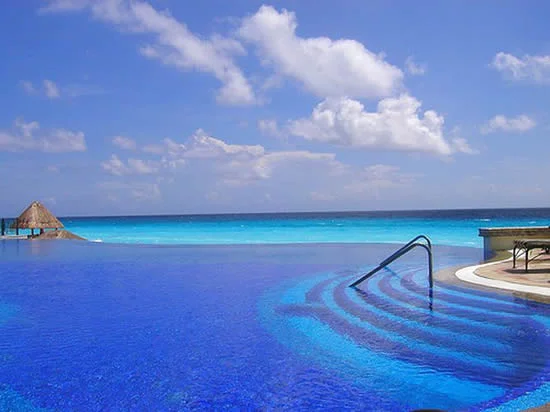 Blue in blue Infinity Pool in Cancun
Check prices and booking options: Le Meridien Cancun Resort & Spa
---
22 – Banyan Tree Seychelles Hotel – Seychelles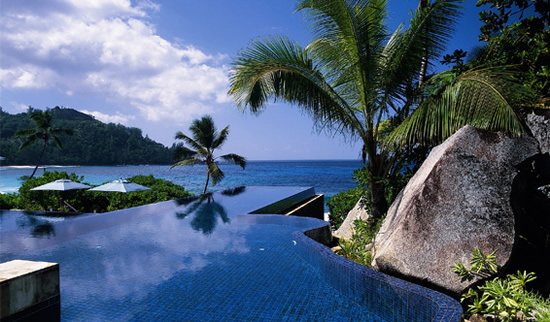 Seychelles Infinity Pool
Check prices and booking options: Banyan Tree Seychelles Hotel
---
23 – W Retreat Koh Samui – Thailand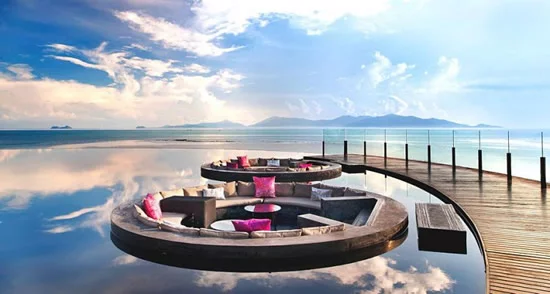 Dramatic Infinity Pool melting right into the turquoise Gulf of Thailand
Check prices and booking options: W Retreat Koh Samui – Thailand
---
24 – Al Bustan Palace Muscat – Oman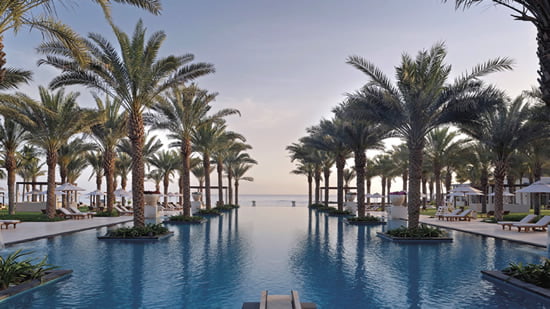 An Arabian Infinity Pool in Oman
Check prices and booking options: Al Bustan Palace Muscat – Oman
---
25 – La Blanc Spa Resort – Cancun – Mexico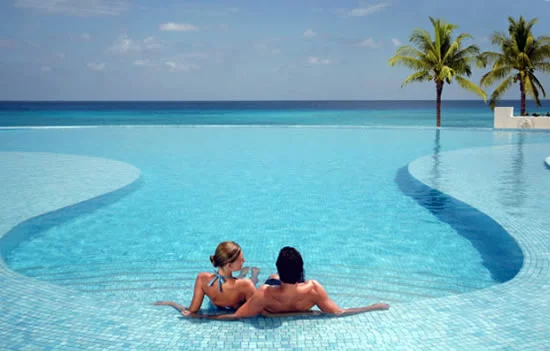 Relaxing Infinity Pool in Cancun
Check prices and booking options: La Blanc Spa Resort – Cancun
---
---
26 – Hotel Caruso – Italy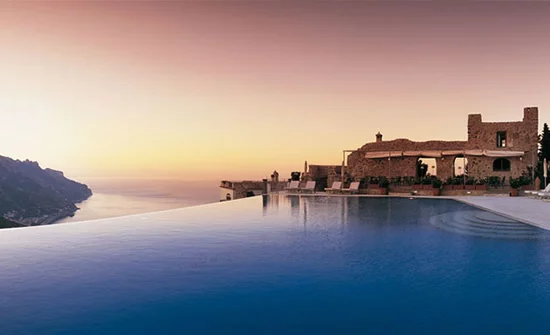 Italian Infinity pool on a clifftop 1,000 feet above sea level
Check prices and booking options: Hotel Caruso
---
27 – Six Senses Yao Noi – Thailand
Infinity Pool offering views of the stunning Phang Nga Bay
Check prices and booking options: Six Senses Yao Noi
---
28 – Wailea Beach Marriot Resort & Spa – Maui – Hawaii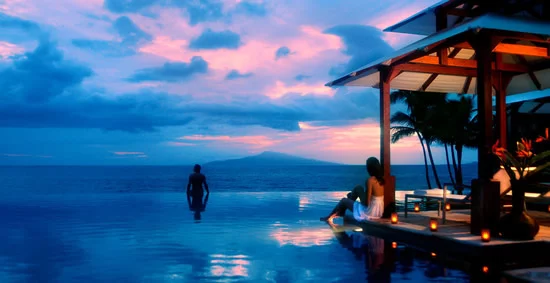 Infinity Pool all day long in Hawaii
Check prices and booking options: Wailea Beach Marriot Resort & Spa
---
29 – Villa Balinese – Turks and Caicos – Caribbean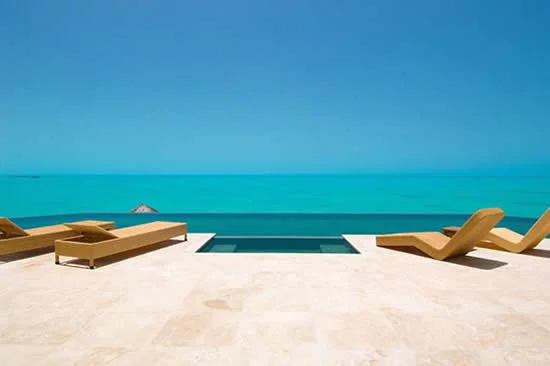 A three-angled oversized Infinity Pool constructed in emerald green stone in Caribbean
---
30 – Infinity Pool at Sanctuary Swala – Tanzania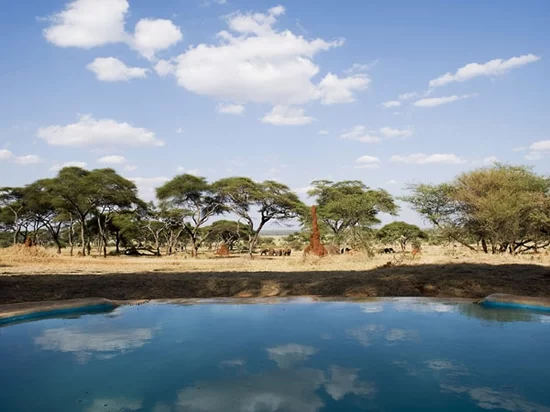 Wildlife view from an African Infinity Pool
Check prices and booking options: Sanctuary Swala – Tanzania
31 – Perivolas Luxury Hotel – Santorini – Greece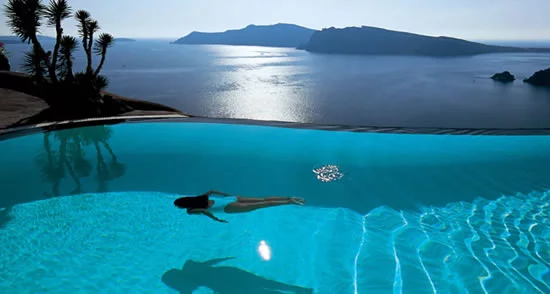 Greek Infinity Pool on the cliffs high above the Aegean Sea
Check prices and booking options: Perivolas Luxury Hotel
---
---
32 – Manihi Pearl Beach Resort – Manihi – French Polynesia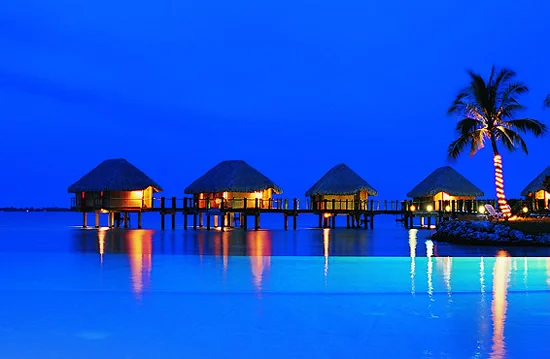 The perfect match: Overwater Bungalows and Infinity Pool in French Polynesia
Check prices and booking options: Manihi Pearl Beach Resort
---
33 – Paloma Club Sultan – Turkey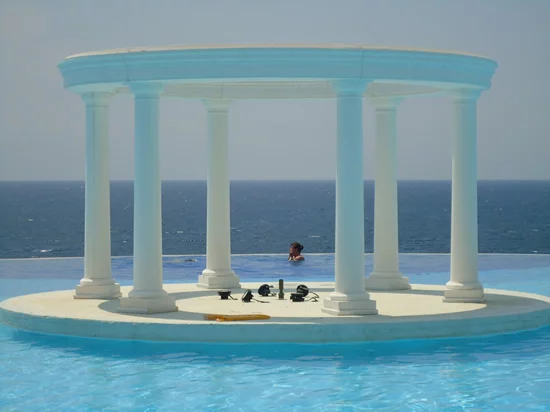 A Greek Gazebo Infinity Pool in Turkey
Check prices and booking options: Paloma Club Sultan
---
34 – Tokoriki Island Resort – Fiji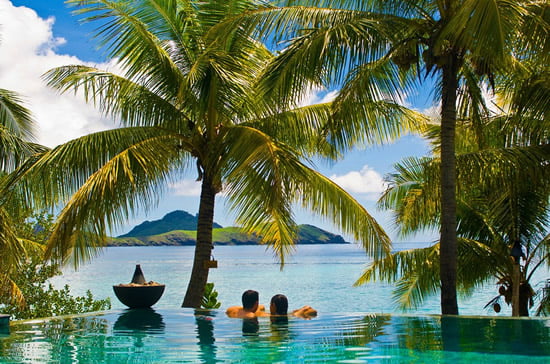 Fijian coconut-tree Infinity Pool
Check prices and booking options: Tokoriki Island Resort
---
35 – Anantara Dhigu Resort and Spa – Maldives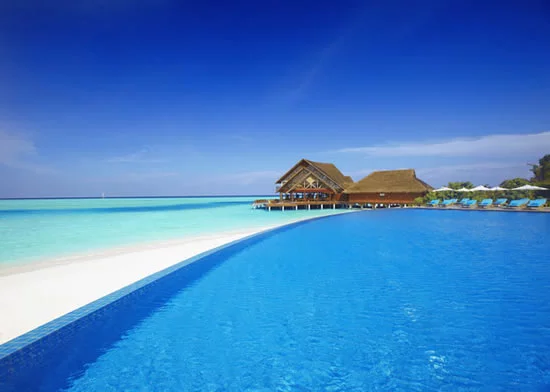 The edge of eternity Infinity Pool in Maldives
Check prices and booking options: Anantara Dhigu Resort and Spa
---
36 – Jordan Valley Marriott Resort & Spa – Jordan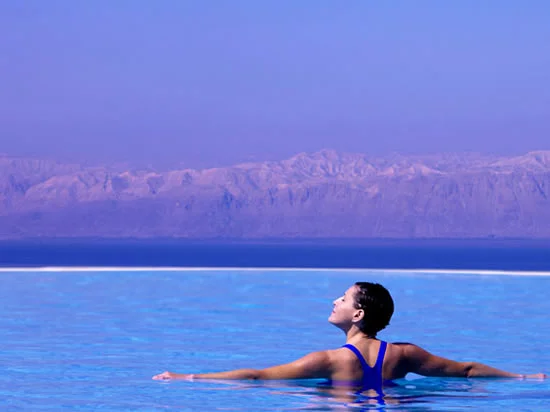 Infinity Pool overlooking mountains and the Dead Sea
Check prices and booking options: Jordan Valley Marriott
---
---
37 – Hotel Kia Ora Resort and Spa – Rangiroa – French Polynesia
Celestial Infinity Pool in French Polynesia
Check prices and booking options: Hotel Kia Ora Resort and Spa
---
38 – Hotel Villa Mahal – Turkey
An Infinity Pool that drops into the sea and sky
---
39 – Saint John Mykonos Hotel – Mykonos – Greece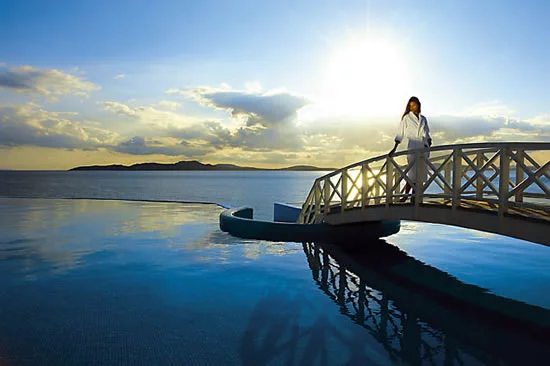 Infinity Pool path-bridge to its private beach
Check prices and booking options: Saint John Mykonos Hotel
---
40 – Infinity Pool at W Retreat & Spa – Maldives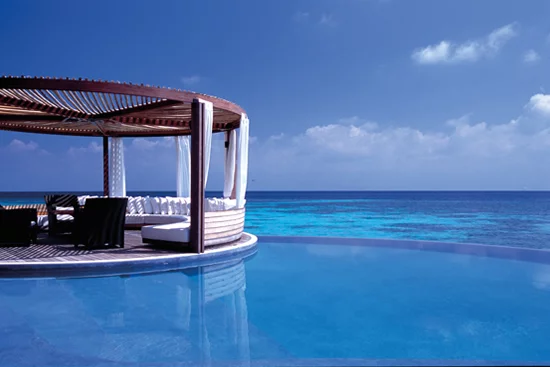 An oversized semi-circular Infinity Pool in Maldives
Check prices and booking options: W Retreat & Spa – Maldives
41 – Maldives Luxury Resort Huvafen Fushi – Maldives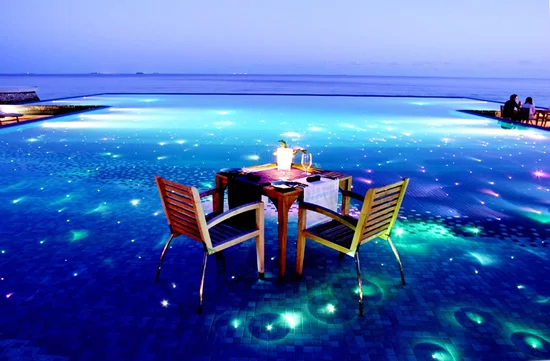 Fantasy Infinity Pool studded with submerged lights in the Indian Ocean
Check prices and booking options: Maldives Luxury Resort Huvafen Fushi
---
---
42 – Intercontinental Tahiti Resort – Tahiti – French Polynesia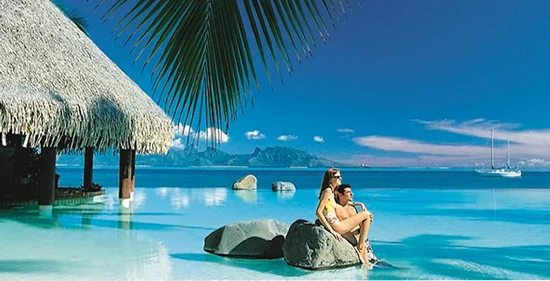 Infinity edged Lotus pool facing the dramatic mountain range of Moorea
Check prices and booking options: Intercontinental Tahiti Resort
---
43 – The Chedi Muscat – Oman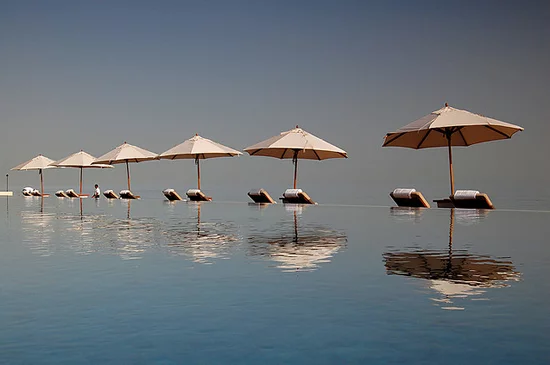 The lovely Chedi Pool
Check prices and booking options: The Chedi Muscat
---
44 – Lily Beach Resort and Spa – Maldives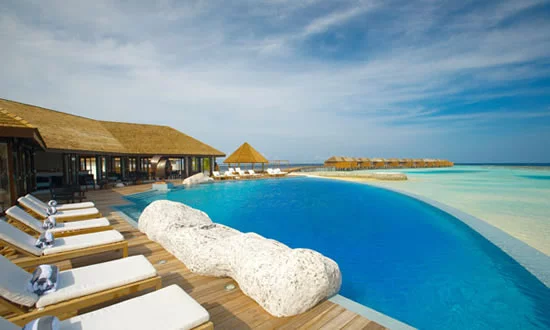 Infinity Pool within a turquoise natural lagoon
Check prices and booking options: Lily Beach Resort and Spa
---
45 – Munduk Moding Plantation – Bali – Indonesia
To infinity and beyond Infinity Pool in Indonesia
Check prices and booking options: Munduk Moding Plantation
---
---
46 – Likuliku Lagoon Resort – Fiji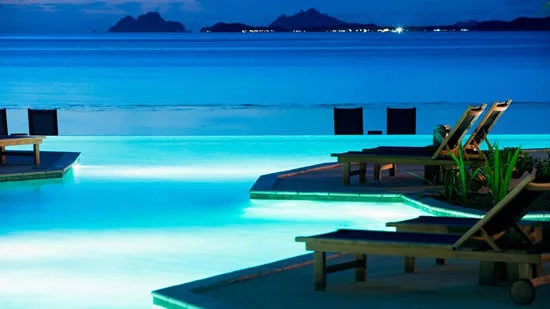 A glowing Infinity Pool in Fiji
Check prices and booking options: Likuliku Lagoon Resort
---
47 – Pangkor Laut Resort – Malaysia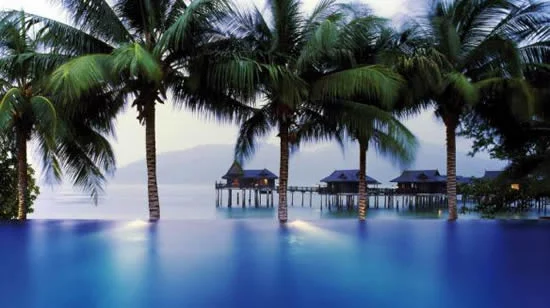 A Malaysian Infinity Pool
Check prices and booking options: Pangkor Laut Resort
---
48 – Mana Island Resort – Fiji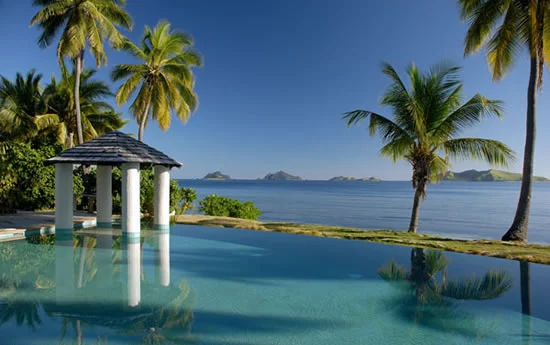 Infinity Pool overlooking a Fijian tranquil beachfront
Check prices and booking options: Mana Island Resort
---
49 – The Naka Island Phuket Resort – Thailand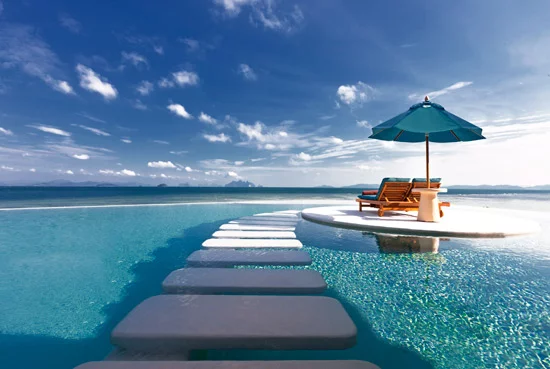 A radiant 546-square-meter Infinity Pool
Check prices and booking options: The Naka Island Phuket Resort
---
50 – Infinity Pool at Bimini Bay Resort – Bahamas – Caribbean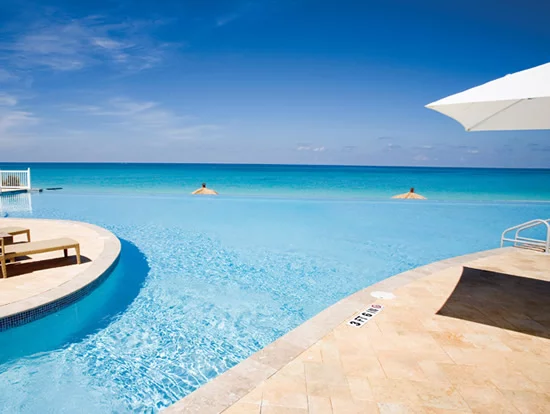 Infinity edge pool with spectacular Atlantic Ocean views
Check prices and booking options: Bimini Bay Resort