One of the most beautiful buildings in Rio de Janeiro, the Rio de Janeiro Theatre (in Portuguese, Teatro Municipal do Rio de Janeiro), is the leading playhouse in Brazil and one of the most important in South America. Opened in 1909, the theatre receives the major international and Brazilian artists, from dance, music and opera.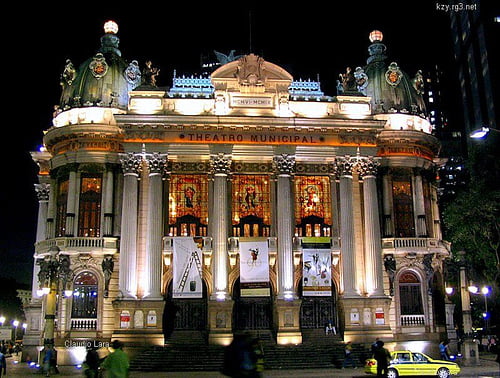 Its architecture and decoration is amazing. The facade features large marble columns and is notable for its stone staircase, stained glass and the three domes of the cover, one of them, in the center of the roof, with a copper golden eagle with its wings spread, which is 2.80 meters long and 6 meters wide.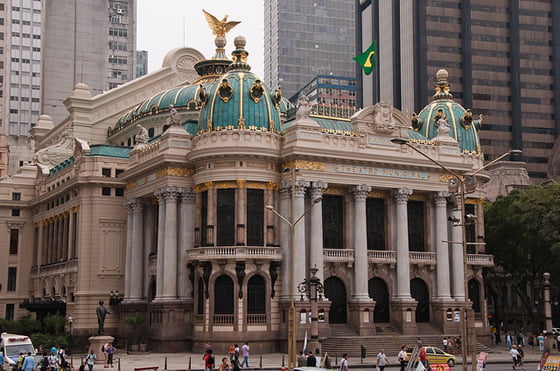 The interior of the theater is as luxurious as the façade. At the entrance hall, are two bronze statues that represent "The Dance" and "Poetry". All the sumptuous decoration of the hall is made of marble of various origins, onyx, bronze and mirrors. The main staircase splits after the first bid, opening up in two bids sideways and is all made in onyx, bronze and gold crystals.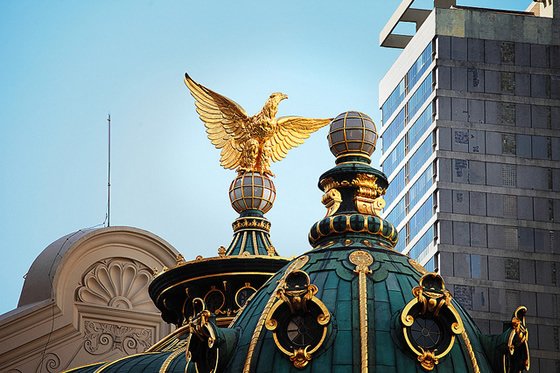 In the foyer two masterpieces stand out: the three precious stained glass windows that Fuerstein and Fugel created in Stutgart and the dome painted by Eliseu Visconti. Moreover, the magnificent ceilings in ceramic, the panels, the Venetian mosaic floors and the marble countertops overlooking the street, worth the visit to the Municipal Theater of Rio de Janeiro.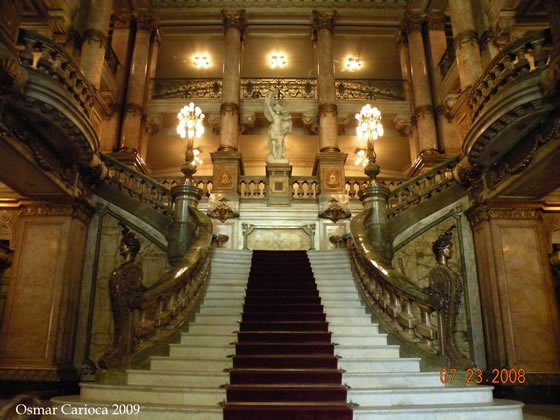 In the concert hall, looking up, you'll see one of the wonders of theater, the great central chandelier, all in gilded bronze, with its 118 lamps with crystal details, surrounded by the dancing of "The Oreadas" one of the Visconti masterpieces. The theatre houses in its basement the restaurant Assyrio, peculiar in its impressive Assyrian decor. Unique in all South America, it is all covered in glazed pottery and inspired by the ancient Babylon. Divided into two plans, the roof is low and supported by columns that end with heads of bull in Persian style. Also impressive are the mirrors embedded in antique bronze and the extremely original lamps.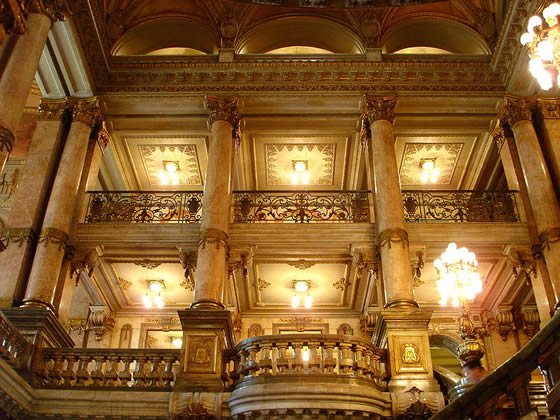 During its recent restoration, to rescue the gold original theater were used thousands of sheets of 23 carat gold bought in Germany and the details that adorn the facade and dome. The Municipal Theatre reopened with 219,000 sheets of gold and 57 tons of copper in addition to 1,500 new fixtures and more than five thousand lamps.
Address: Praça Marechal Floriano, s/nº – Centro – Rio de Janeiro Opening Hours: Guided tours available from Tuesday to Friday, 11 am, 2 pm, and 4 pm – Saturdays from 11 am and 1 pm. Entrance fee: R$ 10,00
[jetpack-related-posts]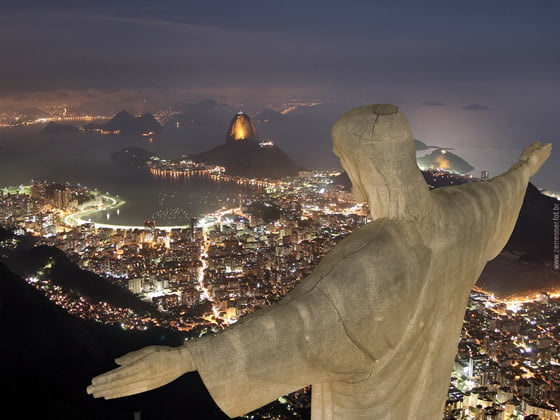 Return to Top Places in Rio de Janeiro