Presenting Hang Son Doong
Here is an awesome cave. Located in Vietnam, Hang Son Doong, "Mountain River cave" in Vietnamese, is the actual largest cave in the world. In 2011 we post a page about the Cueva del Fantasma which, in addition to it's cool name (It means "The Cave of the Ghost" in Spanish) it's also huge. But it's small, or at least short, compared to Son Doong Cave. Now, how large is this cave? Let's find out.
This cave is so big that it has not one, but two forests and even clouds inside it! In fact, it is so big that even a 747 could fly through its largest cavern. For example, take a look on this beautiful photo below.
Did you notice a person standing on the rocks? Yes? Ok, now we get it, moving on.
---
---
A little bit of its history
The cave was discovered by a local man named Hồ-Khanh in 1991 but, due to the steep descent, no one there wanted to explore it further, and this place was left unnoticed to the world. It was just another cave until a group of scientists from the British Cave Research Association, led by Howard Limbert, conducted a survey in Phong Nha-Kẻ Bàng in April 2009 and made the cave internationally known.
The biggest chamber of Son Doong is about 5 kilometers (3.1 miles) long, 200 meters (660 feet) high and 150 meters (490 feet) wide.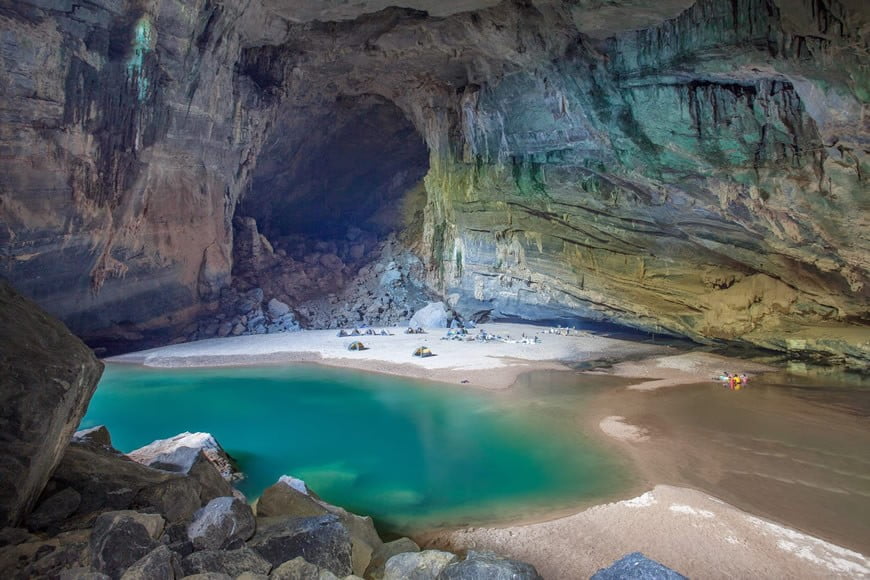 The entire cave runs for approximately 9 kilometers (5.6 miles) and is punctuated by 2 large dolines, which are areas where the ceiling of the cave has collapsed. These areas allow sunlight to enter sections of the cave and has resulted in the growth of trees as well as other vegetation.
Watch out for dinossaurs!
In 2009, after exploring more than 4 kilometers (2.5 miles) inside the cave, a 61 meters (200 feet) wall of muddy calcite stopped the first expedition. A year later, the British Cave Research Association cavers, scientists and other partners returned, more prepared and decided to go to the end of the cave.
Watch out for dinosaurs was spoken by Mark Jenkins to a carver while he was getting ready for exploration. With an atmosphere and a view that takes us to Sir Arthur Conan Doyle's novel The Lost World, this probably is something that could come up to mind. And, not surprisingly, the advice "watch out for dinosaurs" end up stuck with the team members.
In his testimony, the National Geographic writer Mark Jenkins, describes in a good and pleasant way how was his experience. From the beginning, telling in details how was this expedition, to the end, when they finally leave the cave. You can check more on this link.
---
---
It's all about light
Many people don't believe a hole on the ground can offer excellent shots. With two entrances, Son Doong cave gives you great opportunities in using sunbeam light which, in addition to the cave's atmosphere, adds a big portion of ethereality to your photos.
One cave, many views
Some photographers like Ryan Deboodt, John Spies and obviously, Carsten Peter, went there and got some amazing shots. Each one with his own interpretation of the place and corresponds on most of the photos used in this article. You can check below their great shots, those that makes us thinking going there, pretending to live an Indiana Jones' adventure, or just for the sake of the curiosity.
Ryan Deboodt
---
---
 John Spies
Carsten Peter
Tourist Activities
Tourism started in early August 2013. The first tourist group explored the cave on a guided tour at a cost of US$3,000 each.
Expeditions take around 5 days / 4 nights. You can check in you preferred search engine for companies in Vietnam that provide this tour, or access the Vietnamese ministry of sports, culture, and tourism website here for more information.
A word of advice
As usual in places like that, permits are required to access the cave and are made available on a limited basis. As an additional information, only 500 permits were issued for the 2015 season, which runs from February to August. After August, heavy rains cause river levels to rise and make the cave largely inaccessible.
Hang Son Doong Map and Location
Son Doong Cave, is located in Son Trach, Bo Trach District, Quang Binh province, Vietnam. It is situated below another cave in Phong Nha-Ke Bang.
References found on Son Dong Cave Org website, National Geographic website and Wikipedia.