Have you ever thought about living on a cliff-side town? Today you will be amazed to discover that there are many people living on the top of incredible cliffs around the world in countries such as Georgia, Italy, and Spain. These towns are indeed unusual and seem like they are going to fall down at any time. But most of all they are beautiful and interesting places to visit. So today's post we are going to show you our list of the 21 World's Top Amazing Cliff-Side Towns.

Cliff-Side Towns: Living on the Edge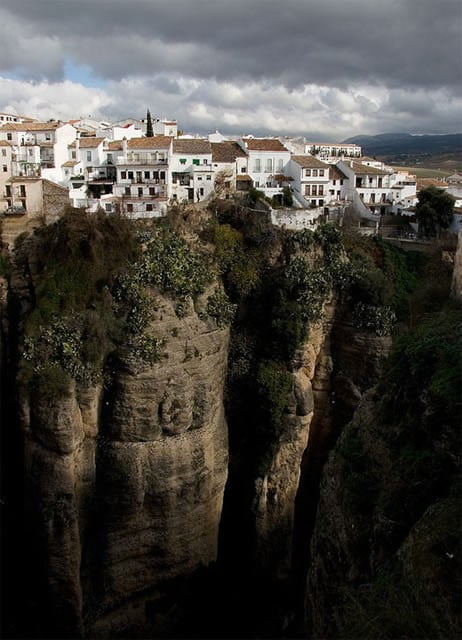 Living on the edge and having a great view. This is the best definition I can think about when living in places like Bonifacio in France. Not to mention Tropea and its beach on the front of the city in Italy. And what about the breathtaking views as those you get in Constantine in Algeria? Oh, they are gorgeous!
All around the world, you will find places which were built on the top of huge rocks, mountains and cliffs. And let me tell you, there is something very attractive and challenging about this that attracts people to live in. Some of the houses are set just on the edge of the cliffs, so residents are faced with formidable vertical drops when looking out from their windows.
If in the past some of those cities were constructed on dramatic terrains as a way of protection, nowadays they serve as great tourist destinations, offering a unique stay with great services in a picturesque location.
---
---
21 – The Bandiagara Escarpment, Mali
The Bandiagara is an escarpment in the Dogon country of Mali. Inhabited today by the Dogon people, the sandstone cliff rises about 500 meters above the lower sandy flats to the south.
---
20 – Pitigliano, Italy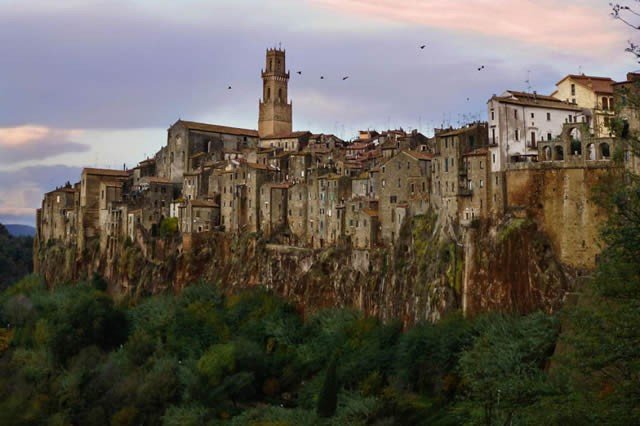 Pitigliano is a cliff-side town located about 80 kilometers (50 miles) south-east of the city of Grosseto, in Italy. Hanging on a "tuff"(compacted volcanic ash) outcrop, its ancient medieval disorderly houses seem to hang on each other to make sure they won't slip off the edge. At night, the town is lit up, so the sight becomes even more spectacular.
---
19 – Castellfollit de la Roca, Spain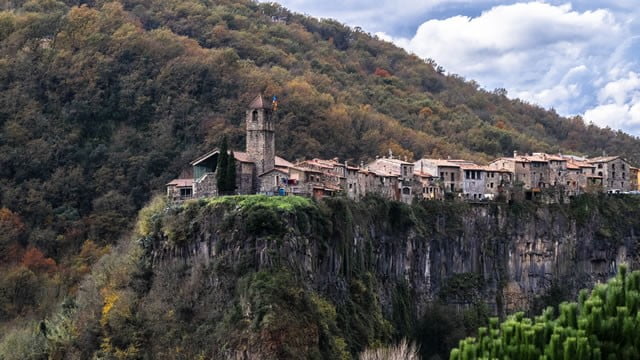 Castellfollit de la Roca is a picturesque village in Catalonia, bordered by the confluence of the Fluvià and Toronell rivers. Its church and houses cling to the top of a spectacular basalt cliff, which is around 1 km in length and 50-meter high. The old part of the village dates from the Middle Ages and is comprised of narrow streets, corners, and squares.
---
---
18 – Jezzine, Lebanon
Jezzine is a town in Lebanon, 40 kilometers (25 miles) south of Beirut. The town is situated dramatically on a rocky promontory that overlooks a deep valley 40-meter high. It is surrounded by mountain peaks and pine forests at an average altitude of 950 meters (3,117 feet). It is the main summer resort and tourist destination of South Lebanon (more info on Wikipedia). There you can find café houses and restaurants that overlook the wonderful landscape of Wadi Jezzine. This cliff town is also famous in Lebanon for its production of handmade, traditional cutlery and daggers with decorative inlays.
The Jezzine waterfall (which is usually dry in the summer) brings an extra charm to the scenery.
Places like the Iris Flower Hotel can provide you a good view of the city.
This place is more recommended if you want to escape the chaos of a big city.
---
17 – Al Hajjarah, Yemen
Al Hajjarah is a perfect example of a cliff-top town. The citadel, founded in the 12th century, is built upon a precipice and is famous for its towering houses which are built onto the cliff faces.
---
16 – Bonifacio, France
Bonifacio is a beautiful cliff-side town in Italy that sits precariously 70 meters over white limestone cliffs overlooking the Mediterranean Sea. The ocean has undercut the cliffs so that the houses on the top appear to overhang it.
Recommended if you want to escape the chaos of a big city.
The Hotel Genovese Bonifacio is a well-rated option for those who are on a budget.
---
15 – Sant'Agata de' Goti, Italy
Sant'Agata de' Goti is a commune in the Province of Benevento in the region of Campania. This fascinating medieval village is perched on a sheer cliff high above a river gorge. 
---
---
14 – Veliko Tarnovo, Bulgary
Famously known as the historical capital of the second Bulgarian empire. Veliko Tarnovo is often referred to as the "City of the Tsars".
The town's medieval historic center is well preserved. And with a unique architecture, Veliko Tarnovo is a great place for tourism.
There are some options on hotels over the Internet but you can find well-rated options on Hotels Combined.
---
13 – Fira, Greece
Moonrise Over Santorini | Credit Hossier Girl
Fira, the capital of Santorini, is a town famous for its white-washed houses built on the edge of a 400-meter (1,312 feet) high caldera on the western edge of the semi-circular island of Thera (more info on Wikipedia). From the top of this picturesque town, you can enjoy magnificent views of a volcano, the deep blue of the sea below and one of the most famous sunsets in the region.
Dramatic cliffs are only part of the show in Fira. The city is packed with interesting places and attractions.
The city is full of shops carrying all sorts of Greek specialties, food and wine, jewelry, and clothing.
The Aigialos Hotel and the Tzekos Villas are some of the best-rated hotels there offering stunning views of the volcano.
---
12 – Arcos de La Frontera, Spain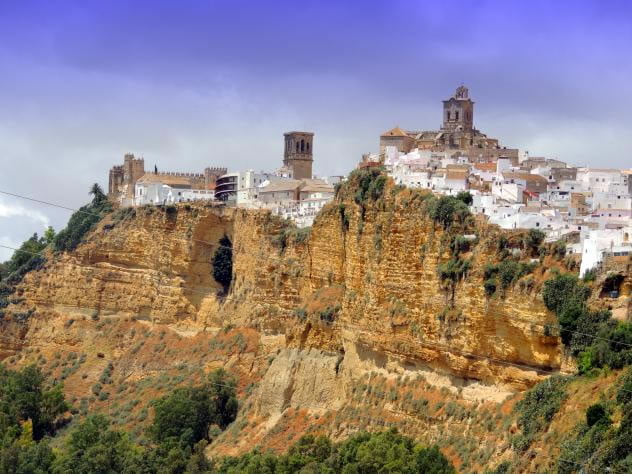 Arcos de la Frontera is a cliff town in the province of Cádiz in southern Spain. One of Andalucia's most dramatically positioned white villages (pueblos blancos), it is perched on the edge of a sheer cliff. The town offers spectacular views of the surrounding landscape.
---
11 – Azenhas do Mar, Portugal
Azenhas do Mar (translated as sea watermill) is a beautiful cliff town in Sintra, Portugal. The village is situated on a cliff that drops 77 meters fearlessly to the ocean. The Miradouro das Azenhas on top of the cliff offers privileged views of the Atlantic Ocean.
---
---
10 – Cinque Terre, Italy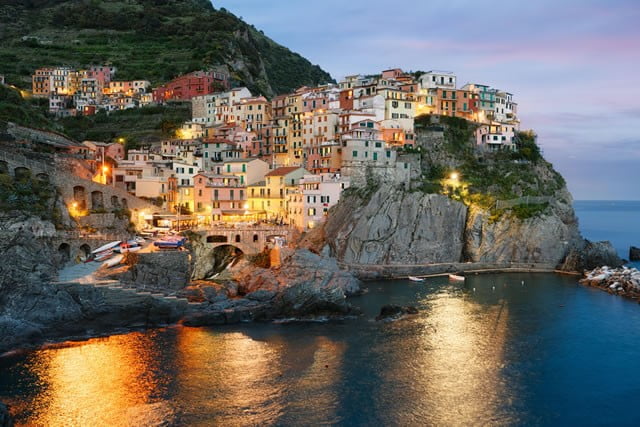 Actually, Cinque Terre (Five Lands) comprises five villages that date from the early medieval period: Monterosso al Mare, Vernazza, Corniglia, Manarola, and Riomaggiore. Set amid some of the most dramatic coastal scenery on the planet, Cinque Terre is famously known for its unique steeply terraced cliffs. And as you can imagine, it is an amazing place to travel to.
---
9 – Metekhi, Georgia
Tbilisi Cliff Georgia | Photo by Benjie Layug
Tbilisi Cliff Georgia | Photo on Travel Tipz
Metekhi is a historic neighborhood of Tbilisi, Georgia, located on the elevated cliff that overlooks the Mtkvari river.
---
8 – Tropea, Italy
Tropea is a famous bathing place, situated on a reef in the gulf of St. Euphemia. The city's buildings are perilously perched on a natural rock formation cliff, 50 meters above sea level, overlooking the turquoise waters of the beaches below.
---
7 – Cuenca, Spain

Cuenca Cliffs | Photo by The Blue Brick
Cuenca is located across a steep spur, whose slopes descend into deep gorges of the Júcar and Huécar rivers. This old town is an outstanding example of a medieval city, built on the edge of a canyon's cliff more than 500 years ago. The unique Hanging Houses (Casas Colgadas) were built right up to the cliff's edge, making Cuenca one of the most striking towns in Spain.
There is another Cuenca in Ecuador, pay attention when planning for traveling there. Here, on this link
Hotels in Cuenca
you will find hotels in the city of Cuenca in Spain 🙂
---
6 – Positano, Italy
Positano is a small picturesque town with splendid coastal views, on the famous Amalfi Coast, in Campania, Italy. The town is full of vertiginous colorful houses perched on an enclave on the face of a hill.
---
5 – Rocamadour, France
Not only because of the culture or the Durandal sword, Rocamadour, in south-western France, has attracted visitors for its stunning collection of cliff dwellings, historical monuments and religious sanctuaries built on a limestone cliff 1,500 feet above the Alzou River Gorge. A miraculous chapel and several oratories of this medieval village rise in stages up to the side of a cliff and seem to defy the laws of gravity.
---
---
4 – Polignano a Mare, Italy
Polignano a Mare is an ancient town in southern Italy perched atop a 20-meter high limestone cliff.  The cliff-side town offers breathtaking views of the beautiful crystal clear waters of Adriatic Sea and coastline. The local economy depends mostly on tourism, agriculture, and fishing.
Museums, sightseeing, outdoor activities and more. Polignano a Mare offers a great experience but when in there, try to not leave the
Castellana Caves
unseen. For places to stay check on this link:
Hotels in Polignano a Mare
.
---
3 – Ronda, Spain
Ronda is a cliff-side town in the Spanish province of Málaga. It is precariously perched on the cliffs of a 100-meter canyon, providing amazing views, and despite the bullfighting shows, the town is great for tourism.
If you like nature, the drive on the A374 Highway from Ronda to the town of Algodonales is one of the most beautiful, and scenic drives in Spain 🙂 For staying, places like the
Hotel Catalonia
Reina Victoria
and
Suites Ronda
are very well rated hotels with good prices.
---
2 – Haid Al-Jazil Village – Wadi Dawan, Yemen
Our second place, Haid Al-Jazil, is a village in central Yemen, located 73 km (45 miles) away from Wadi Dawan. The village is perched entirely on a boulder and it is noted for its fantastic mud brick buildings that rise several stories tall. Many of them hang above the rocks, at a height of 100 or 200 meters above the level of the valley.
---
And finally, our most loved Cliff-Side Town: 1 – Constantine, Algeria
Constantine | Photo by Mariusz Kluzniak
Constantine | Photo by Mariusz Kluzniak
Sidi M'Cid | Photo by Yelles
Named in honor of emperor Constantine the Great, Constantine is often referred to as the "City of Bridges" due to the numerous picturesque bridges connecting the mountains the city is built on. Clinging to the cliffs above the Rhumel River gorge, which plunges hundreds of feet below the city, Constantine takes your breath away with its houses placed on the very tip of the precipice.
This incredible cliff-side town is home to Ottoman palaces, an Oscar Niemeyer-designed university, and ornate hotels from the French colonial era. Still not a huge tourist destination, Constantine in Algeria offers a beautiful, spectacular and stunning sightseeing. Tourists, still not much there, are usually received with warmth and a genuine curiosity.