Do you like art? I mean, do you like to go to museums, art expositions, and related places? Or maybe a friend of yours? And if I tell that you can see sumptuous architecture and artworks touring underground in many of the Russian metro lines? Hm, this could look unusual, but trust me, you will be impressed by this top list. Today we are going to explore Russia's Top Beautiful Metro Stations.
Below you will find an easy step-by-step circular route suggestion to see the 6 most beautiful metro station in Moscow. You can click the items on the map to view the detailed information and the steps to go from one subway station to another.
---
A Little Bit About Russia's Metro System
In 1935, still in the Soviet Union the Moscow Metro started. It was built to, not only be good for the Russian people, but to look good, and they really got serious on that. Many stations were designed by the country's best architects, and have plenty of works of art. You can get inspired, marveled and see the history told on those stations. Let me talk a little bit about numbers of the two of the most known metro systems in Russia: Moscow and Saint Petersburg.
The Moscow Metro started in 1935 with 11 kilometers (6.8 miles) and 13 stations. As in 2015, Moscow Metro is among the longest, with 329 kilometers (204 miles), and busiest of the world, not to mention the actual stations count, 197, which puts it among the largest systems in the world too.
The St. Petersburg Metro could not be among the top 10 largest or busiest, but is one of the deepest metro systems in the world and the deepest by the average depth of all the stations. It's deepest station, Admiralteyskaya, is 86 meters below ground.
But not only this, paying about 50 rubles (US$0.75/€0.70) for a single ride ticket, you can start your journey inside some of the most beautiful metro stations in the world.
---
---
Top 16 Beautiful Metro Stations in Russia
1 – Botanicheskaya (Botanical), Yekaterinburg – Opened in 2011
The roof design of the Botanicheskaya metro station is based on honeycombs representing the city's nearby botanical gardens.
---
2 – Kremlevskaya (Kremlin), Kazan – Opened in 2005
---
3 – Ploshchad Tukaya, Kazan – Opened in 2005
Ploshchad metro station is located in the very center of the city, and is named after the square which carries the name of the famous Tatar poet Ğabdulla Tuqay Location
---
4 – Arbatskaya, Moscow – Opened in 1953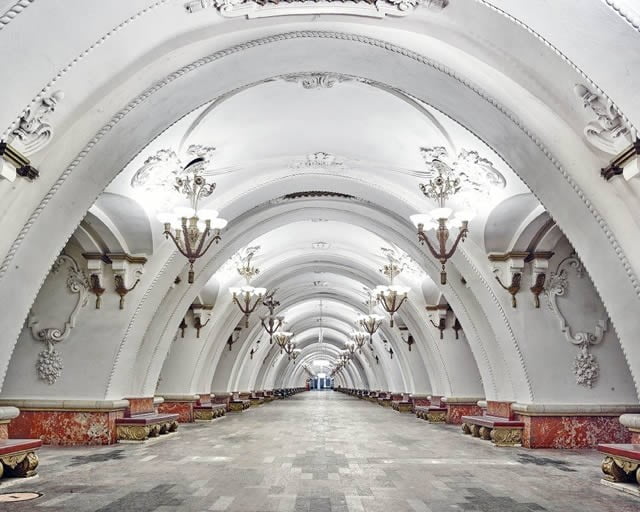 With an unusual change from the standard circular design, the Arbatskaya station features low, square pylons faced with red marble and a high vaulted ceiling elaborately decorated with ornamental brackets, floral reliefs, and chandeliers.
---
---
5 – Belorusskaya, Moscow – Opened in 1952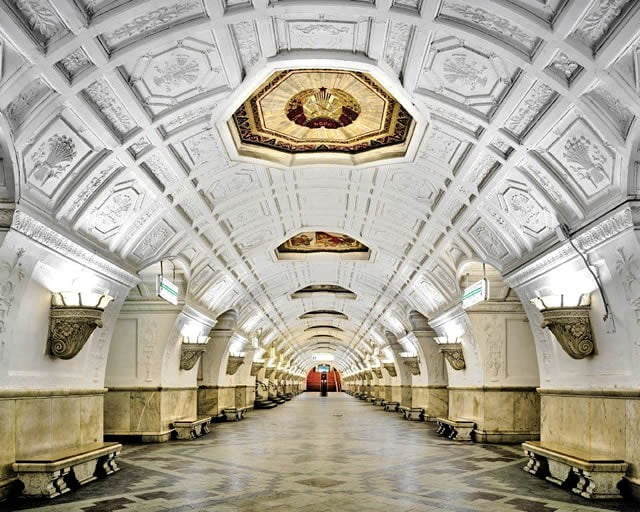 The Belorusskaya metro station has low, white marble pylons, an elaborately patterned plaster ceiling, light fixtures supported by ornate scroll-shaped brackets, and a variety of decorations based on Belarusian themes.
---
6 – Elektrozavodskaya, Moscow – Opened in 1944
Elektrozavodskaya is one of the most known stations of the system. Opened during the World War II, it is one of the iconic symbols of Moscow's metro system.
---
7 – Kievskaya, Moscow – Opened in 1954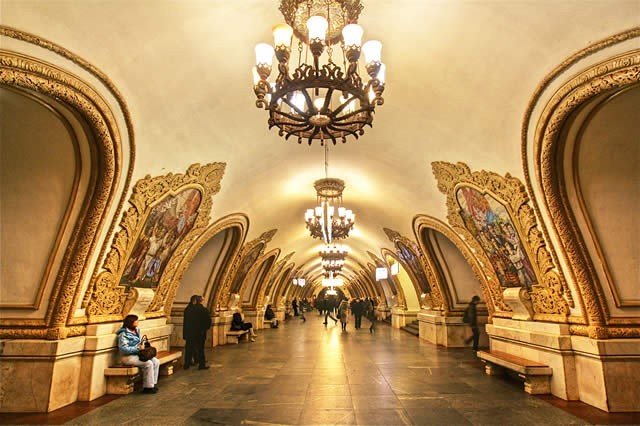 At Kievskaya station, both the mosaics and the arches between the pylons are edged with elaborate gold-colored trim. At the end of the platform is a portrait of Vladimir Lenin.
---
8 – Komsomolskaya, Moscow – Opened in 1952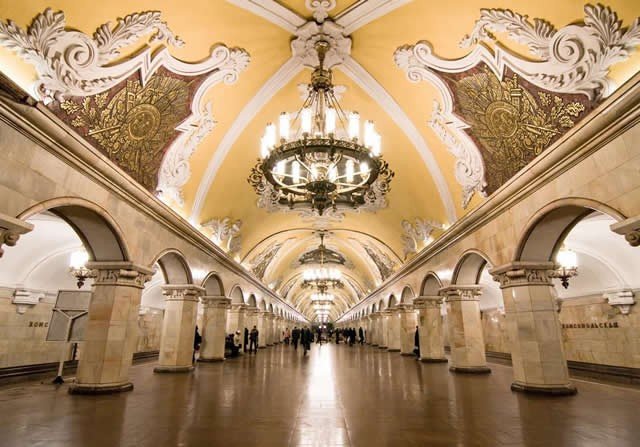 At Komsomolskaya, the platform level, the full details of this deep column station built to special design on a monolithic plan become apparent; there is an imposing Baroque ceiling, with accompanying friezes, painted yellow. Supporting the enlarged barrel vault are 68 octagonal columns faced with white marble, and topped with baroque pilasters.
---
---
9 – Mayakovskaya, Moscow – Opened in 1938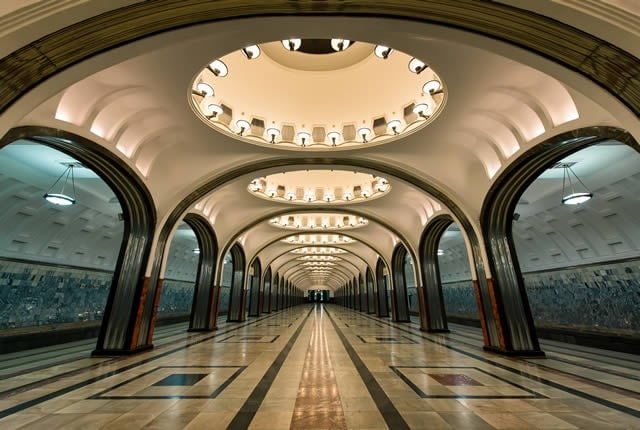 Considered to be one of the most beautiful in the system, Mayakovskaya is a fine example of pre-World War II Stalinist Architecture and one of the most famous metro stations in the world.
---
10 – Novoslobodskaya, Moscow – Opened in 1952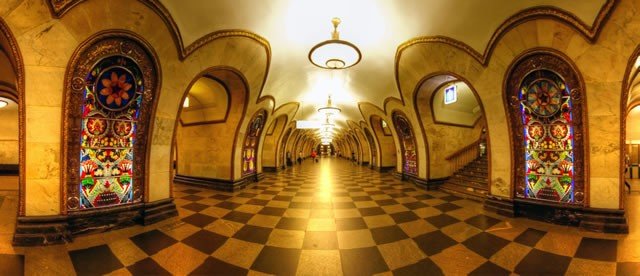 Novoslobodskaya metro station is best known for its 32 stained glass panels, which are the work of Latvian artists E. Veylandan, E. Krests, and M. Ryskin.
---
11 – Park Pobedy, Moscow – Opened in 2003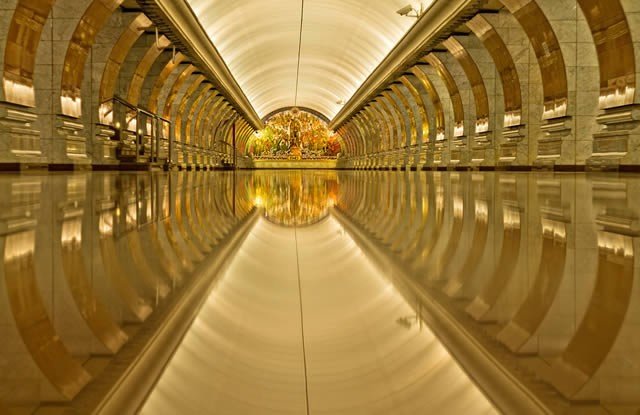 Dedicated to victory over Nazism, with excellent decoration, Park Pobedy sits 84 metres underground making it the deepest metro station in Moscow and the third deepest in the world.
---
12 – Slavyansky Bulvar, Moscow – Opened in 2008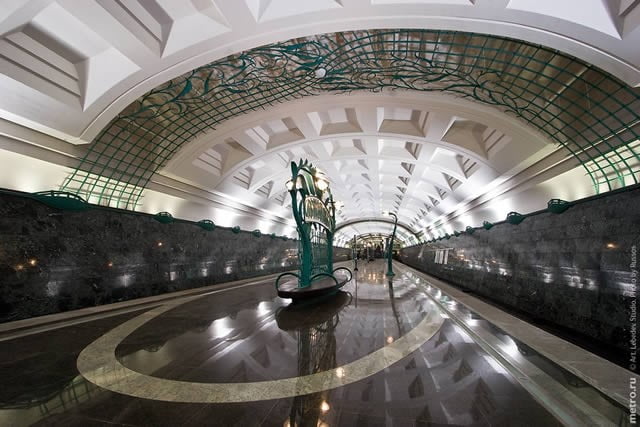 At Slavyansky Bulvar metro station, internal walls are revested with green Cuban marble "Verde Guatemala", topped with aluminum profile and lighting elements.
---
---
13 – Taganskaya, Moscow – Opened in 1950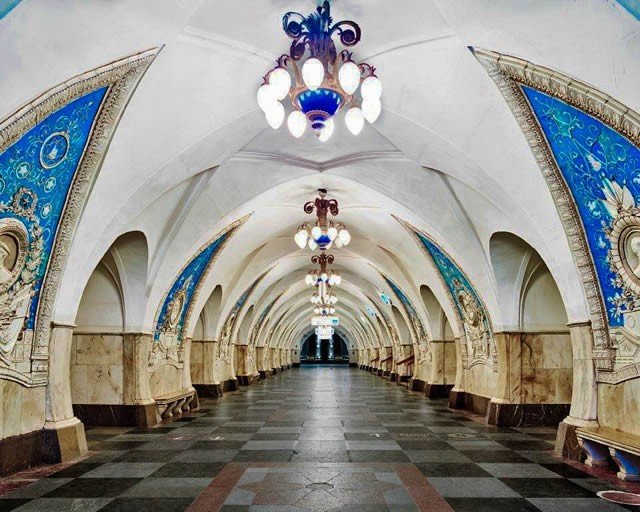 Designed by architects K. Ryzhkov and A. Medvedev, this pylon station was built with the post-war flamboyance in mind, the overall design is based on the traditional Russian motives in decorations.
---
14 – Pushkinskaya, Saint Petersburg – Opened in 1956
There is a monument in Pushkinskaya dedicated to the poet Alexander Pushkin sculpted by Mikhail Anikushin. This station was the first USSR metro station with memorial located under the ground.
---
15 – Kirovsky Zavod, Saint Petersburg – Opened in 1955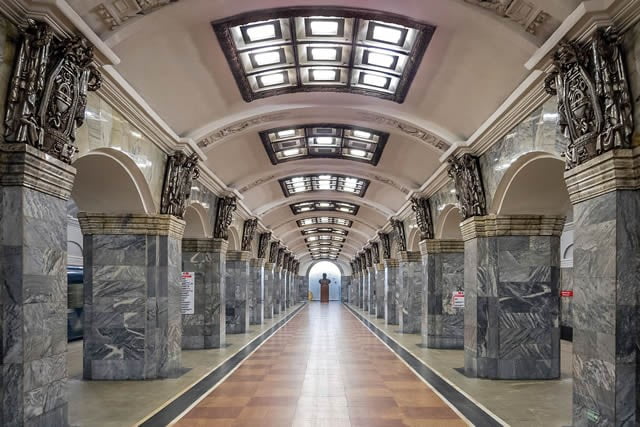 In Kirovsky Zavod station, the pavilion has a design typical for that time, classical style. its shape resembles an ancient Greek temple and has a wide granite staircase.
---
16 – Avtovo, Saint Petersburg – Opened in 1955
Avtovo is a station on the Kirovsko-Vyborgskaya Line of the Saint Petersburg Metro. It was designed by architect Ye.A. Levinson and opened as part of the first St. Petersburg metro line on November 15, 1955.
A Tip and Advices
Going to Taganskaya Metro Station? There is a real ex-secret military bunker under Taganskaya Square and you can book an excursion on this link;
Avoid to use the metro around 12 and 2 PM, because those are the rush hours;
There are no English signs on the stations and, sometimes, find someone who speaks English could be difficult. So learn your route well, write the names in both languages and make sure to know the number of the stations you have to go;
Russia's metro stations, not only are (usually) a work of art, but also tells a story and dreams from the time when it was built. There is no way to go wrong with it. When in Russia, do not miss the opportunity to get to know many of the most beautiful metro stations in the world 🙂
References were found on Moscow Russia Inders Guide website and on Wikipedia