Gullfoss (English: The Golden Waterfall) is Iceland's most famous waterfall and one of the most popular tourist attractions in the country. It is also by far Europe's most powerful waterfall.
Located in the canyon of the River Hvítá, it is 32 meters high, 20 meters wide and it drops into a narrow canyon that's up to 70 meters deep and 2.5 kilometers long. As one first approaches the falls, the crevice is obscured from view, so that it appears that a mighty river simply vanishes into the earth. The average amount of water running over this waterfall is 140 m³/s in the summertime and 80 m³/s in the wintertime. The highest flood measured was 2000 m³/s.
Glacial water is brownish, since it carries lots of sediments that the glacial ice has carved off the earth. On a sunlit day, the mist clouds surrounding the falls provide a spectacle of several rainbows. In winter, it has an unusual appearance when it is framed with ice and snow. It's hard to believe that Gullfoss almost disappeared due to the desire for hydroelectricity by various interests. But a nearby farmer's daughter underwent a pilgrimage on foot to Reykjavik, where she demanded that unless the plant was stopped, she would cast herself over the falls. After the nation overwhelmingly came out in her favor, plans were halted and the government purchased the land for a national park.
Gullfoss Location
From Reykjavik, drive about 54km east along the Ring Road to the turnoff with route 35. Follow route 35 for over another 70km or so to the waterfall.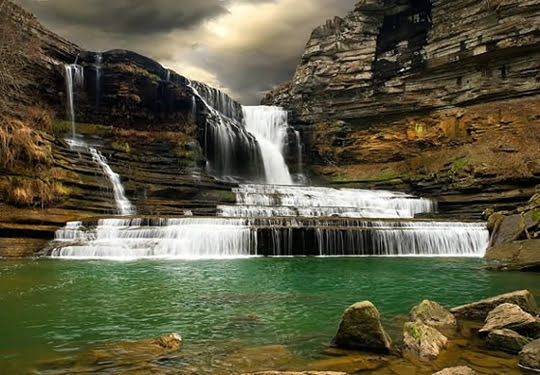 Return to Top Waterfalls in the World 2