If the weather is not good, but you don't want the kids stuck at home or at the hotel all day, Singapore offers fantastic indoor attractions for countless hours of fun. From museums to libraries and amazing mall playgrounds, there are always options to keep the children entertained. Check out these 12+ fun ideas!
1 – Trick Eye Museum
This is another fun interactive museum that uses optical illusions to bring 3D murals to life. It is a place where kids and adults alike can not only touch and feel the art pieces, but also become the subject of the artwork on display. Trick Eye Museum is divided into six thematic zones: World of Masterpieces, Safari Kingdom, Stars of Circus, Dreams of Fairytale, Love in Winter and Adventure Discovery. Pretend to shot from a cannon or fly on a broomstick and take some awesome one-of-a-kind photos.
Trick Eye Museum Map and Location
Resorts World Sentosa, 26 Sentosa Gateway #01-43/44 Singapore 098138
---
The City and Kidzania are role-play playgrounds that offer kids the chance to explore what it's like to live and work in a real functioning city as"mini adults". Using uniforms and outfits, children can pretend to be a doctor, police, fireman, reporter, aircrew and many more in real-life scenarios. While learning through play, children can improve skills such as planning, working together, negotiation, problem solving, math, among others. Click here to see more!
---
3 – iFly Singapore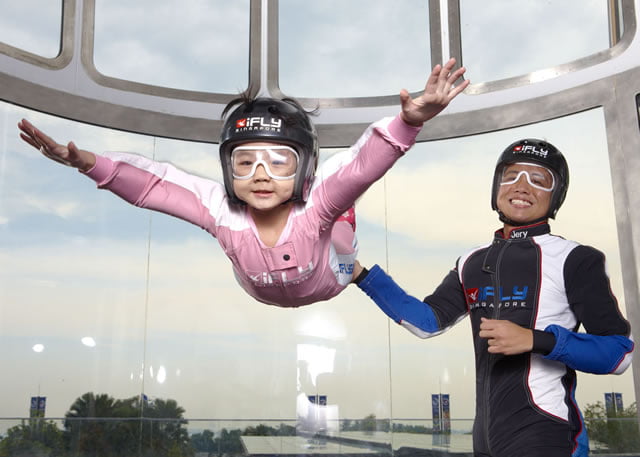 iFly Singapore is the world's largest indoor skydiving simulator. It provides an exciting "free fall" experience, without any of the danger of having to step out of plane. Kids will have lots of fun pretending they are flying.
Useful Information
Opening Hours: Mon, Tue & Thu – Sun: 9am – 9.30pm / Wed: 11am – 9.30pm
Ticket Price: 2 Skydives – $119
Age: Children 7 years old and above
Official Website: iFly Singapore
Nearby Accommodations: Hotels in Siloso Beach
Ifly Map and Location
43 Siloso Beach Walk, #01-01 Sentosa Island, Singapore 099010
---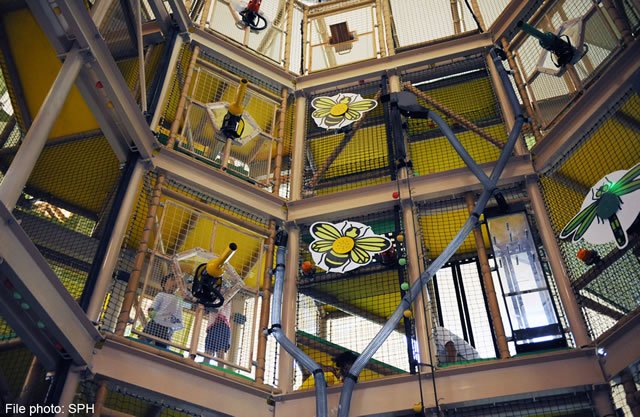 Indoor playgrounds are the perfect places for kids to run around, jump, swing, climb and burn off some excess energy. These play areas are great for children to develop gross motor skills and learn to play well with others. And they are available in most of the shopping malls in Singapore. So check out this selection of four great indoor mall playgrounds to take the kiddos on a rainy or burning hot day: The Polliwogs, Amazonia, Go-go Bambini and Kidz Amaze. Click here to see more!
---
5 – My Tree House – National Library
My Tree House is a great place to entice young children to read and learn about the environment in a fun and interactive way. This library is beautiful and evokes a magical sense of forest adventure. Forming the centerpiece of the library, the striking tree house canopy is constructed with recycled bottles, while its steps and surrounding platform are built with recycled timber. It is the world's first green library for kids and eco-friendly features include refurbished bookshelves, carpet made from recycled materials and energy-efficient LED lighting. It is home to a vast collection of 45,000 books in four languages, a third of which focus on themes such as animals, plants, nature, water, weather and recycling. The other 70% of the collection is fiction books that include fairy tales related to the theme of the enchanted forest. There are also two eReading kiosks that allow kids to read eBooks and play educational games. And a cozy reading area with comfy cushions all around makes it a perfect place for kids to read their favorite books.
My Tree House Map and Location
Located within the Children Section at the Central Public Library – 100 Victoria Street, Singapore 188064
---
6 – Flight Experience Flight Simulator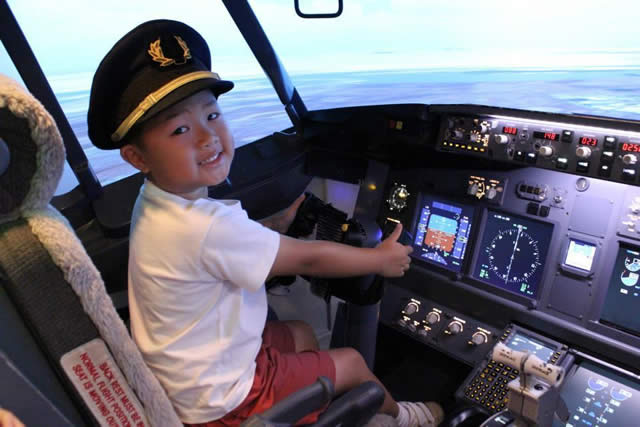 Does your child want to be a pilot for a day? Flight Experience Singapore offers flight simulation experiences for the whole family. This flight simulator features a fully enclosed cockpit equipped with full-functioning avionics and computers. The immersion experience combined with the high-definition fidelity of visuals, sound and vibration give an amazing impression you're flying a real aircraft. Although there is no minimum age for the flight experience, we find that children under 4 years old won't necessarily understand what's going on. But you can pretend to be the pilot and take the kids on the two extra seats to join you during the flight.
Flight Experience Map and Location
Singapore Flyer, 30 Raffles Ave 039803