Fiordland is one of the most dramatic and beautiful geographic regions of New Zealand, situated on the remote wilderness southwestern corner of the South Island. It is a sightseeing and walking destination where towering snow-capped mountains, steep-sided fiords, thundering waterfalls, deep crystal clear lakes and unbroken lush rain forests produce a landscape of extraordinary scenic beauty.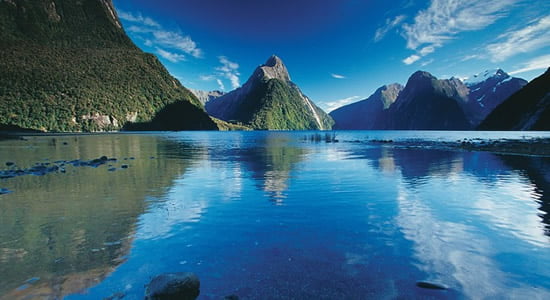 Fiordland features 14 fiords, including the world-famous Milford Sound, as well as Doubtful Sound, which is the largest one. These u-shaped deep fiords were carved by glaciers over 100,000 years and then been flooded by the sea. The landscape is one where spectacular waterfalls on all sides of the sheer cliffs cascade hundreds of meters incessantly directly into deep black fiords.
This part of New Zealand has a very wet climate, receiving 6,300mm of rainfall per year, so visitors should always be prepared to enjoy some rainfall during their stay. But water is what makes Fiordland a verdant land with lakes, rivers, waterfalls and fiords, and come sunshine or rain, the views are incredible. After heavy rain, the waterfalls flow full and hundreds of other falls create a nature's spectacle cascading down into the fiords.
Fiordland is almost an untouchable place; the scenery has remained unchanged throughout the ages. Human activity within Fiordland has been limited, due to the remoteness, the wet climate and the sheer steepness of the terrain, which made it difficult for settlement in the region. Much of the region is inaccessible by road. The township of Te Anau is considered the gateway to the fiords. It is the closest town to Milford Sound, with a scenic 2½-hour drive and 20 minutes by coach to Lake Manapouri and the start of a Doubtful Sound excursion.
---
---
Fiordland Attractions and Things to do
1 – Milford Sound
Milford Sound is probably the most famous of all of the fiords and the only one that can be accessed by road. It is approximately 16km from the head of the fiord to the open sea, where steep rock walls rise vertically upward from the ocean for hundreds of metres and waterfalls tumble hundreds of meters into the sea below, allowing cruise boats to maneuver beneath the falls.
Cruising Milford Sound is good opportunity to get close up views of this spectacular landscape. The boats travel 1½ to 2 hours, looking extremely insignificant against the grandeur of the iconic Mitre Peak and the walls of the fiord. Often, dolphins accompany your cruise up the sound and seals are a common sight as they bask on rocks.
Its beauty continues below the sea. Beneath the water, the mountains continue to plunge down as steep rock walls reaching a depth of up to 450 metres and producing a fascinating underwater world. A visit to the Milford Discovery Centre & Milford Deep Underwater Observatory or a guided dive tour allows access to sites rarely revealed to human visitors.
---
2 – Doubtful Sound
Less accessible than Milford Sound and practically untouched by man, Doubtful Sound, sometimes called 'the Sound of Silence', contrasts with Milford Sound because of its deep stillness, a sense of solitude and serenity.
Doubtful Sound is the deepest of the fiords, with 421 meters in-depth, and has 3 distinct arms. It is 3 times longer than Milford Sound, with a surface area 10 times longer. It also features some outstanding waterfalls in the area from Deep Cove to the open ocean, a distance of around 40 kilometers.
The fiord is rich in flora and fauna. Wildlife often sighted may include bottle-nose dolphins that appear and ride along with kayaks and boats at times, New Zealand Fur Seals found lazy on the rocks, Fiordland Crested Penguins that can be seen on many of the small islets at the entrance of the fiord, and sea birds such as the Albatross and Molly Mawk.
---
---
3 – Scenic Flight
Try a scenic flight and experience the wonder of Fiordland from a different perspective, which may include landing atop some of the glaciers. From the air you have access to remote areas of Fiordland and breathtaking views overlooking cascading waterfalls, such as Sutherland Falls, which most beautiful angle is taken from above, when you can see the lake behind the waterfall framed with snow-capped mountains in cold seasons.
A range of commercial operators offer helicopter, fixed wing and float plane flights out of Te Anau and Milford Sound to transport and photography charters as well as heli-hike options.
---
4 – Kayaking
Some of the fiords can be explored by kayak, like Milford and Doubtful Sound. Enjoy Fiordland's dramatic scenery at water level from a kayak. It is a great way to be among its many fiords, explore many waterways and lakes in the region, get up close to the waterfalls and the wildlife that may include seals, penguins and dolphins.
---
5 – Scenic Cruise
Milford and Doubtful Sound offer a wide array of cruises, ranging from scenic cruises, extended daytime cruises and overnight excursions with the option of exploring by kayak or tender craft.
The extra time taken on an overnight voyage also allows time to experience the fiord from sunrise to sunset, and have greater chance to see some rain and get two shots at the weather.
---
---
6 – Hiking
There are many excellent hiking and walking tracks that transverse its dramatic landscape, including three of New Zealand's "great walks", as well as a range of short walks, the reason why Fiordland has the title of the "walking capital of the world".
Walking allows access to the most remote towering snow-capped mountains, tussock clad alpine plateaus, lakes, magnificent valleys, rainforest and the most breath-taking scenery.
The 500-kilometre network of walking tracks provides a chance to enjoy nature and have great photographic opportunities. They can be explored independently or as part of a guided group, and coach and boat transfers, helicopters and even a floatplane provide access to the major tracks.
---
Fiordland Great Walks
Fiordland has several Great Walks, which takes three to five days to complete and are described as "well formed track for comfortable overnight tramping/hiking". The huts and tracks on the Great Walks are of a higher standard than other tramping tracks, and many of them have booking systems to manage visitor pressure.
Three of New Zealand's 'Great Walks' can be found in Fiordland National Park, such as Milford Track, which is the most famous and consequently most crowded, the Kepler Track and the Routeburn Track. Other overnight walks also offers spectacular scenery, like Hollyford Track, Tuatapere Hump Ridge Track, Dusky Track and the less famous, but just as stunning, Green Lake/Lake Monowai Track.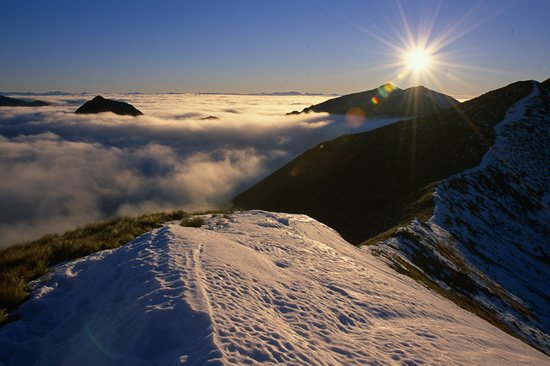 Kepler Track – Fiordland
In summer, most of these walks can be undertaken by people with average fitness and experience. In winter, tracks into alpine areas become more difficult and even impassable, and are recommended only for experienced trampers and climbers.
---
---
1 – Milford Track
Milford track, one of New Zealand's most popular walks, is considered to be "the finest walk in the world".
The 4 day/3 night walk transverse the heart of Fiordland National Park from Lake Te Anau to Milford Sound and takes you over 54 kilometers through breath-taking scenery, like the Sutherland Falls, the tallest waterfall in New Zealand and the Mackinnon Pass, as well as mountains, lakes, river gorges, alpine slopes and valleys.
The Milford Track can be undertaken independently or as a Guided Walk with a slightly more 'luxurious' experience. To go to the start point of the walk you must take a bus or private transport to Te Anau Downs, then a Boat to Glade Wharf.
---
2 – Kepler Track
The Kepler Track is a beautiful 60-kilometre circular route that can be walked in 2 nights/3 days or 3 nights/4 days. It starts on Te Anau and passes through a variety of terrain from mountain beech forest to exposed mountain tops, offering vistas of lakes Te Anau and Manapouri, alpine grasslands and U-shaped glacial valleys.
---
3 – Routeburn Track
The Routeburn Track crosses 33 kilometers into Mouny Aspiring National Park, and generally takes 3 days/2 nights to be completed. The track can be walked in either direction from The Divide (Milford Road) or the Glenorchy Road end. Through the walk you can spot waterfalls, forested valleys, rich bird life, and spectacular alpine scenery.
---
---
4 – Hollyford Track
The Hollyford Track is the only major track in Fiordland at low altitude, which can be walked even in winter, as there are no alpine crossings, and also connects to the Fiordland coastline.
It is a 56-kilometre moderate tramping track from the Hollyford Road that ends 4-5 days later on the old port of Martins Bay, where NZ Fur Seal colony and Fiordland Crested Penguins at present at certain times of the year.
---
5 – Tuatapere Hump Ridge Track
Hump Ridge Track is a 3-day/2-night loop walk that passes 55 km through a wide variety of landscapes, including beach, bush and sub alpine scenery, and also viaducts. It has been recently developed and quickly established as one of New Zealand's Great Hikes.
The track starts at Rarakau and offers views of the coastline, Te Waewae Bay and Waitutu coastal marine terraces. The most stunning attractions of the track are the surreal sandstone towers, the Okaka Tors and Tarn.
---
6 – Green Lake/Lake Monowai Track
This is a 3 to 5 day circuit from the Lake Monowai roadend to Green Lake and the western end of Lake Monowai. It provides beutiful views of the lakes and the Fiorland Mountains to the west. Some may continuous from Monowai Hut to Rodgers Inlet Hut and turn it into a loop track. Sections of the circuit are unmarked routes or badly marked tracks so some route finding ability is required. It also can be shortened with vehicle access along the Borland Road or boat access to Monowai Hut.
---
---
Fiordland Short Walks or Day-Walks
A range of short walks in the park also provides inspiration. These easy tracks vary in length from 30 minutes to 3 hours walking excursions. They are good a sample of the different attractions and scenery Fiordland has to offer for those with limited time, experience or fitness to hike the Great Walks.
Some of the most striking and beautiful short walks of Fiordland are revealed along the Milford Road, which runs from Te Anau to Milford Sound. Below are listed some of the most scenic and interesting short walks tracks on this Milford route.
---
1 – Mirror Lakes Walk
The Mirror Lakes are small lakes seen from the wheelchair accessible 10-minute boardwalk that provides outstanding reflective views of the Earl Mountains.
---
2 – Knobs Flat Walk
Knobs Flat is located deep in the heart of Eglinton Valley. It's an incredible scenic stop point on Milford Road, where you can enjoy the vista and contemplate life from a grassy knoll.
---
3 – Key Summit Track
Key Summit Track is 3-hour return walk, ideal to introduce the impressive scenery and natural features of Fiordland National Park. It is accessed from Milford Road and begins at The Divide car park and follows the Routeburn Track for about an hour until the track branches off on a 30-minute climb to Key Summit.
---
---
4 – Lake Marian Track
Lake Marian Track is a 3-hour return walk accessed from the Hollyford Road. It crosses the Hollyford River by swing-bridge then passes through silver beech forest to a spectacular series of waterfalls.
The track leads you to an idyllic picnic spot beside Lake Marian, which offers beautiful photo opportunities, as it reflects the Darren Mountains that surround it on a still day.
---
5 – Homer Tunnel Walk
On your way to Milford Sound, stop off right before the entrance to the Homer Tunnel, so you can take a short walk through the alpine zone to see the beautiful flora and fauna, including the Keas, Alpine Parrots frequently seen here. But, please, DO NOT FEED THEM!
---
6 – The Chasm
It takes only 20 minutes of return walk to get to The Chasm, a spot along the Cleddau River where the watercourse disappears between a narrow chasm. From two foot bridges over the river you can look down at mostly strangely shaped rocks and potholes resulting from the Cleddau River's forceful flow.
---
7 – Piopiotahi Milford Foreshore Walk
Although the vista of Milford Sound and Mitre Peak are very beautiful from the scenic cruises, don't miss the opportunity to go on this 30-minute walk to have some of the best views of Mitre Peak (specially at dawn) and take a postcard-like photograph of this landscape icon.