Gardens by the Bay is a surreal green oasis in the heart of Singapore that offers an easy getaway from the city centre traffic and skyscrapers. This horticultural heaven brings plants to life in a way you have never seen before. There you are surrounded by nature whilst feeling like you have stepped into the Avatar movie.
This huge, colorful, futuristic park is famous for its high-tech Supertree Grove – a collection of magical giant trees – as well as Cloud Forest and Flower Dome – the world's largest climate-controlled greenhouses. The garden complex is also home to several outdoor gardens and lakes, such as the scenic Dragonfly & Kingfisher Lakes.
Gardens By The Bay is indubitably a unique attraction many nature-lovers and photographers would look forward to visit. It is located adjacent to Marina Bay Sands, which offers a fantastic aerial view of the entire garden form its Marina Bay Sands Skypark Observation Deck.
Although a relatively new attraction in Singapore, this landmark has what it takes to be a world-renowned site. In fact, part of the 2015 Hollywood film "Hitman: Agent 47" was filmed at Gardens by the Bay.
---
---
Supertree Grove
Supertree Grove consists of 18 fantastic supertrees that act as vertical gardens. These structures aren't exactly real trees, but rather a series of man-made frames that support tropical flowers, ferns and other plants, forming a lush, colorful skin. With otherworldly design features, this garden is unlike any you have seen before.
Standing between 25 and 50 m tall (80-160 ft), these tree-like structures are fitted with environmental technologies that mimic the functions of regular trees, such as solar photo-voltaic systems that convert sunlight into energy, just like how trees photosynthesize; and collection of rainwater for use in irrigation and fountain displays, exactly like how trees absorb rainwater for growth. The Supertrees also serve air intake and exhaust functions as part of the conservatories cooling systems.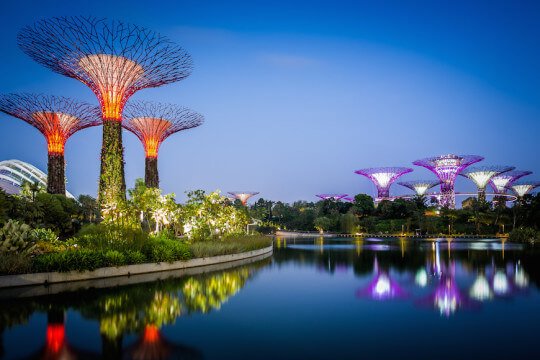 ---
Connecting some of the iconic Supertrees is the OCBC Skyway, which offers panoramic views of the Gardens as well as the surrounding Marina Bay Sands area. At night, this enchanting grove comes alive with the spectacular Garden Rhapsody light and sound show that gives an ethereal look to the gardens, making you feel like you are in a modern fairy-tale.
---
---
For that extra special dining experience, the tallest tree at the center houses the Supertree by Indochine, the only restaurant atop the Supertree Grove. Guests can choose between a tree top roofless bar and a lounge restaurant with a 360-degree view of the entire Gardens by the Bay.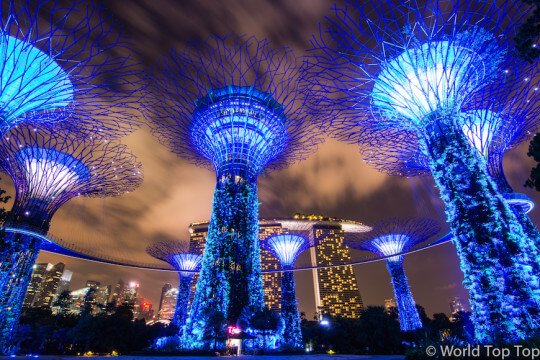 ---
Gardens by the Bay Conservatories – Flower Dome and Cloud Forest
Flower Dome and Cloud Forest are over-sized climate-controlled greenhouses inspired by the shape of an orchid flower. Thanks to technologies that create the perfect micro-climate for exotic plants to grow, these huge biomes are home for 220,000 plants from almost every continent in the world. The cooled conservatories at Gardens by the Bay achieve carbon neutral status with the help of low-energy and renewable systems.
Each building has its own distinct climate, showcasing different ranges of plants. The Flower Dome – the world's largest column-less glasshouse – replicates the cool-dry climate of Mediterranean regions like South Africa, California and parts of Spain and Italy, housing a collection of plants from deserts all over the world.
---
---
While the Cloud Forest replicates the cool humid conditions found in tropical mountain regions between 1,000 meters (3,300 ft) and 3,000 meters (9,800 ft) above sea level, found in South-East Asia, Middle-East and South America. Within the enclosed compound, a 35-metre tall mountain is veiled in mist and covered in lush vegetation amidst the world's tallest indoor waterfall.
---
Useful Information
Opening Hours: 
Outdoor Gardens: Daily 5:00 AM – 2:00 AM
OCBC Skyway: Daily 9:00 AM – 9:00 PM (Last ticket sale at 8:00 PM)
Flower Dome and Cloud Forest: Daily 9:00 AM – 9:00 PM (Last ticket sale at 8:00 PM)
Garden Rhapsody light and sound show: Daily 7:45 PM and 8:45 PM
Gardens by the Bay Map and Location
Address: 18 Marina Gardens Drive, Singapore 018953
Nearest Metro Station: BayFront MRT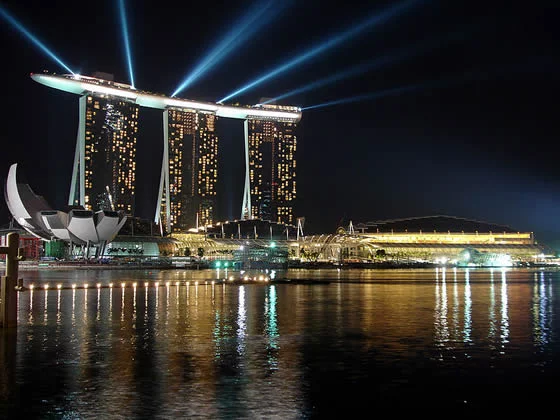 Return to Top Places in Singapore