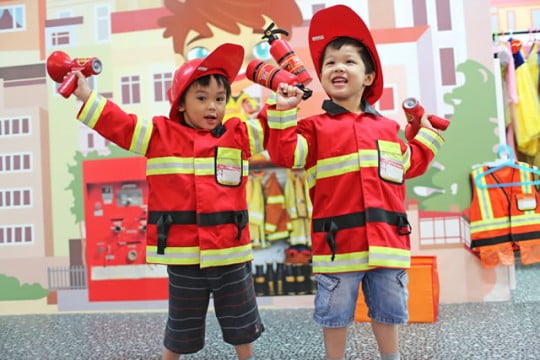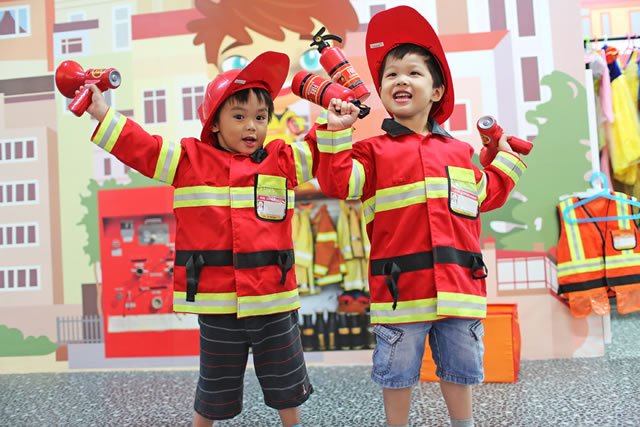 We have already seen the many amazing tourist attractions Singapore has to offer in Top Places in Singapore. And do you think that Singapore might seem, at first blush, like an odd place to take the kids on vacation? Famously urbanized and safe, the city is one of the most family friendly destinations in Asia and has all the amenities you may need with children in town. Singapore has plenty of fun attractions to keep the little ones entertained. No matter if you are on a tight budget or have a fortune to spare, if you want to stay indoors or prefer the great outdoors, if your kids are older or toddlers, your little ones will not be disappointed. So, to give you ideas, we've put together a list of the Top 20+ Places in Singapore for kids.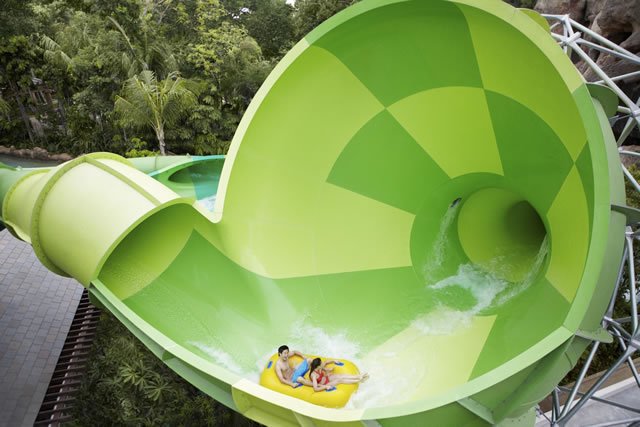 Thanks to the year-round hot weather in Singapore, there are lots of fun water parks on offer around the Island to keep both kids and parents cool. Here are three suggestions of Water Theme Parks to go in Singapore: Adventure Cove Waterpark, Wild Wild Wet and Port of Lost Wonder. Click here to see more!
---
2 – Sungei Buloh Wetland Reserve
Sungei Buloh Wetland Reserve is an ecological gem in northwest Singapore that provides excellent wildlife viewing opportunities. Considered to be the best nature spot in the city, this 130-hectare ecological site is an excellent place to expose your kids to the wonders of Mother Nature. This nature reserve is surprisingly large and has a nice variety of walks. Along the trails, kids will be able to experience the life of diverse species of birds, reptiles and fish. Elsewhere, crabs, mud skippers, mud lobsters and even water monitor lizards can be found in their natural habitats and viewed from a distance at observation posts that dot the park. Recognized as a site of international importance for migratory birds, the reserve has also few observation hides that allow bird watching without scaring them away.
Sungei Buloh Wetland Reserve Map and Location
301 Neo Tiew Crescent, 71892 To access the new extension, enter via the new entrance at Kranji Way.
---
---
3 – G-Max Reverse Bungee
G-Max Reverse Bungee is a must-do attraction to the brave people who want to get an adrenaline high in Singapore. Instead of falling off high levels, you will sit in a capsule, drag down to stretch the rubber cords, and be catapulted to 60 meters in the air at a speed of 200km/hr. Just next to the Bungee, there is also the GX-5 Extreme Swing, which brings you up 50 meters high, release, and let you swing like a pendulum at over 120km/h! Be aware that G-Max Reverse Bungee is an attraction for older children over 12 years and at least 1.2-meter tall. And be unworried, because it boasts a 100% safety record with over 1,000,000 jumps to its name.
G-Max Reverse Bungee Map and Location
3E River Valley Rd, Singapore 179024
---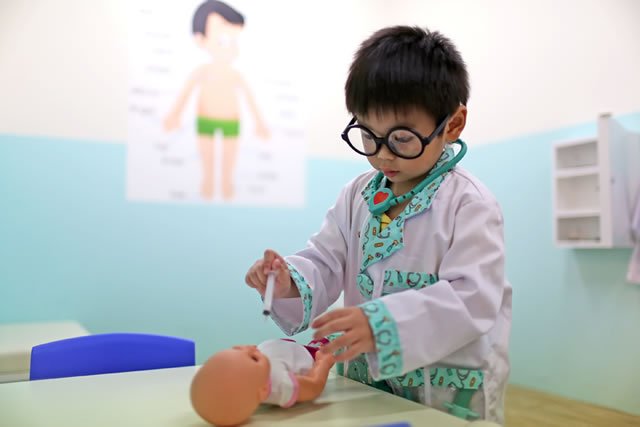 The City and Kidzania are role-play playgrounds that offer kids the chance to explore what it's like to live and work in a real functioning city as"mini adults". Using uniforms and outfits, children can pretend to be a doctor, police, fireman, reporter, aircrew and many more in real-life scenarios. While learning through play, children can improve skills such as planning, working together, negotiation, problem solving, math, among others. Click here to see more!
---
5 – Universal Studios Singapore
Universal Studios Singapore has plenty of movie-themed attractions, rides and entertainment for a whole day of fun for adults and kids alike. The park consists of 7 themed zones – Madagascar, Far Far Away (Shrek theme), The Lost World, Ancient Egypt (including The Mummy), Sci-Fi City (including Transformers), New York (including Sesame Street) and Hollywood. Each themed zone has its own attractions, shopping, eating establishments, street performances, live shows and movie characters around the theme. So the little ones have the chance to meet some of their favorite cartoon movie characters. Do note that there are certain height restrictions for the rides. But there are many rides that children of all ages, including the babies, can go on, as long as an adult accompanies them.
Universal Studios Singapore Map and Location
8 Sentosa Gateway, Sentosa Island 098269
---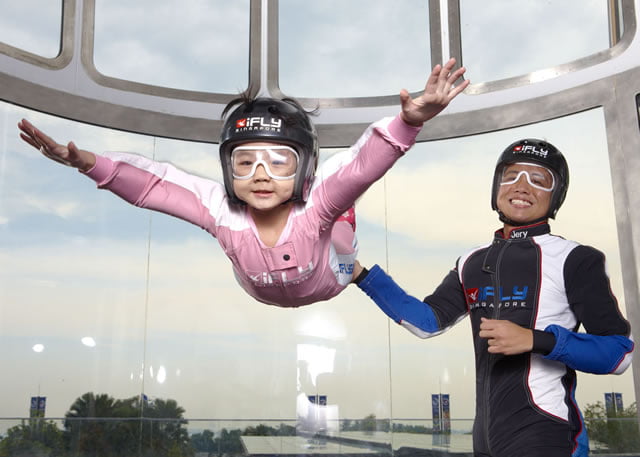 If the weather is not good, but you don't want the kids stuck at home or at the hotel all day, Singapore offers fantastic indoor venues for countless hours of fun. From museums to libraries and amazing mall playgrounds, there are always options to keep the children entertained. Check out these 12+ fun ideas!
---
---
7 – Skyline Luge Sentosa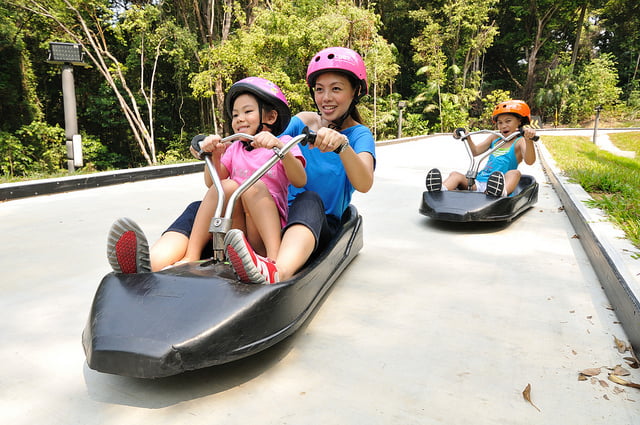 Skyline Luge is a fun, fast-paced outdoor attraction in Singapore for kids and adults alike. The Luge is a wheeled gravity thrill ride that provides riders full control over their descent on purpose-built Luge track, specially designed with hairpin corners, long straights and exciting slopes. Start the fun at the chairlift, located next to Beach Station, between Siloso and Palawan Beaches and choose to take a leisurely cruise or race down the 688-meters Dragon trail or 628-meter Jungle trail – 1.4 kilometers of fun day and night.
Skyline Luge Sentosa Map and Location
45 Siloso Beach Walk Sentosa, Singapore 099003
---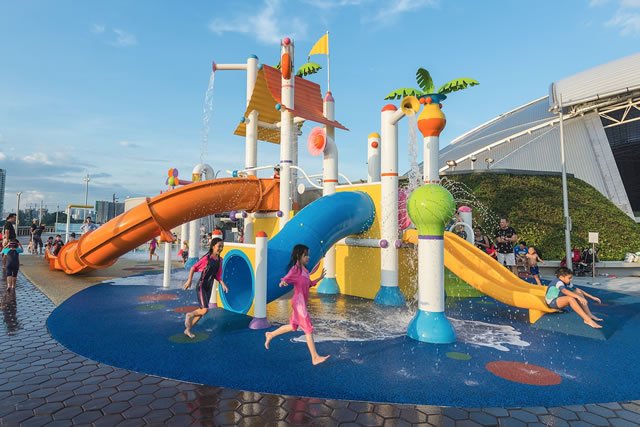 With the hot weather in Singapore, water play areas with fountains, splash pads and wading pools are perfect places for kids to cool off. There are lots of free water playgrounds in the city conveniently located within shopping malls. Click here to see more!
---
9 – Forest Adventure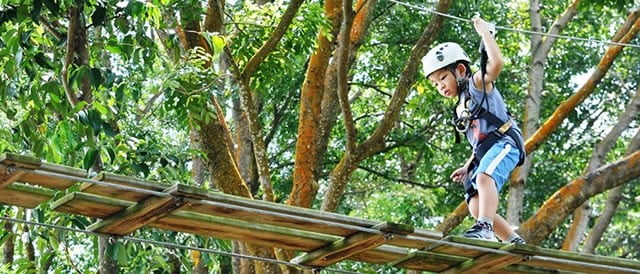 Forest Adventure is a fun outdoor adventure for children and adults in Singapore. The park has 3 different courses that allow both children and adults to join in the fun in the trees. The courses have 34 different obstacles, including bridges, trapezes, logs, and giant zip lines. The Kids Course is specially designed for children aged 5 to 10, while the Mini Course allows children not quite tall enough for the Kids Course to have their first adventure at height. Children are attached to a continuous safety line and detached only when they have completed the course. Parents are expected to guide and encourage their children from the ground. But if your child is a little nervous, you can accompany him/her on the Kids Course or stay close on the Mini Course.
Forest Adventure Map and Location
Bedok Reservoir Rd, Singapore 479244
---
10 – Wavehouse Sentosa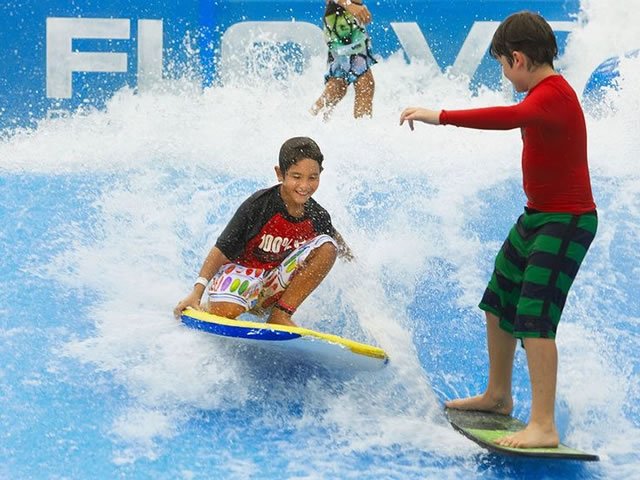 Take the kids to surf at Wavehouse Sentosa, where they will refresh themselves while enjoying a fun flowboarding experience. The Double FlowRider is the most basic of the two waves available. Since this wave creates a safe, non-curling, endless sheet of water flowing at 20mph (32 km/h) over a vinyl surface, much like a trampoline, it is the perfect canvas for children learn to ride some waves. The little ones will love to ride the Double FlowRider on body board, since it is the easiest way to enjoy it.
Wavehouse Sentosa Map and Location
36 Siloso Beach Walk, Singapore 099007
---
11 – Wings of Time – Singapore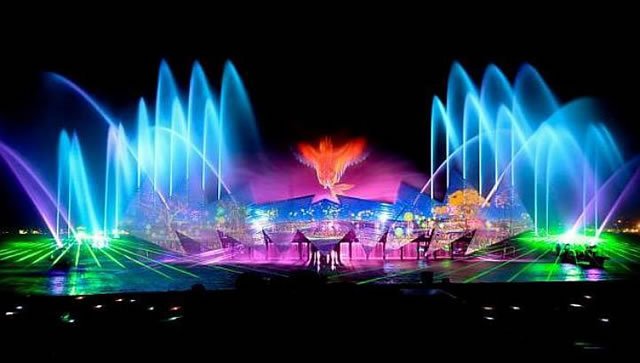 Wings of Time is an outdoor night show set in the open sea at Sentosa's Siloso Beach. Kids will be mesmerized by the combination of music, light projection, water, laser, and fire effects, which makes the night show a truly immersive experience. The 25-minute show tells an epic tale of courage, mystery and magic of two teenagers, Felix and Rachel, and their adventures as they help a bird-like creature named Shahbaz find its way home.
Wings of Time Map and Location
Beside Beach Carpark, Sentosa
---
---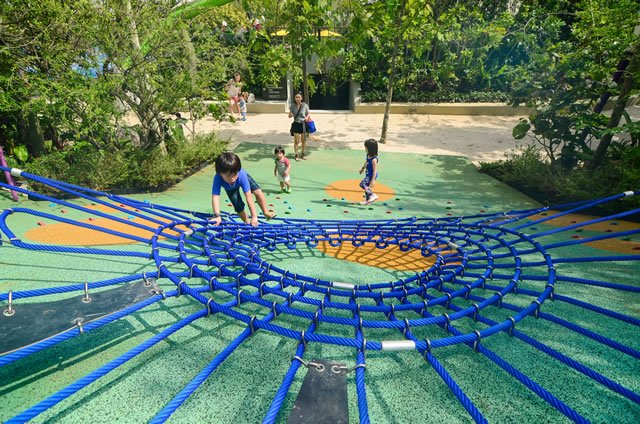 Want your kids to go outside and have some fun? There are plenty of outdoor playgrounds that can be found throughout Singapore. They are great places to burn off all the excess energy of your children. Here are two free outdoor play areas that really stand out.
---
13 – Sentosa Cable Car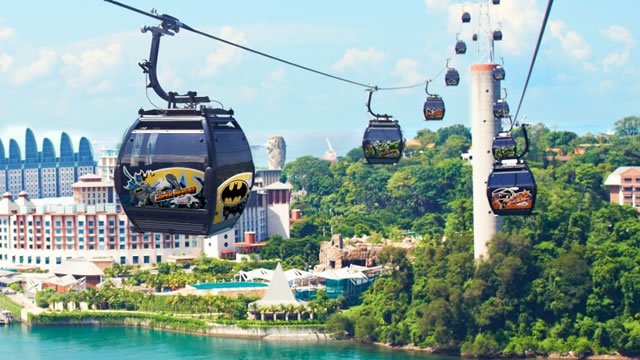 Riding a cable car can be a great way to capture any child's attention. Singapore Cable Car Sky Network has two lines: the Mount Faber line, which links Mount Faber to Sentosa Island and the new Sentosa line, which will take you to dozens of attractions on the island. With 360° panoramic windows cabins, Singapore Cable Cars present a fantastic way to see Singapore's city skyline and Sentosa Island from above. Kids will definitely going to enjoy it.
14 – MegaZip Adventure Park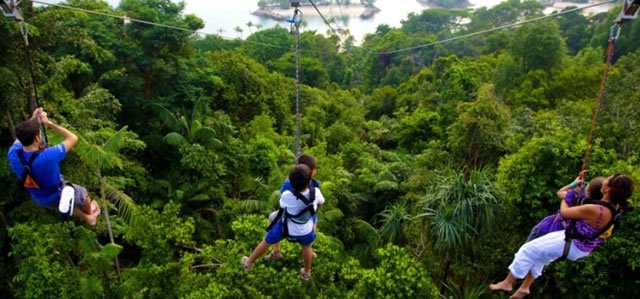 MegaZip Adventure Park offers adrenaline, speed, and fun on its five different attractions. The MegaZip, which is the main one, is a zip-line that takes participants from the peak of Imbiah Hill, 75 meters (246 ft) above ground level, at a speed of up to 60 km/h (37 mph), over the jungle canopy for over 450 meters before arrive on Siloso Beach. It is also the first 3-wire zip-line built, so kids will love to test friendships racing their pals or parents in an exhilarating, breathtaking race. Other attractions to thrill children include: Climbmax, an aerial obstacle course of wobbly bridges, cargo nets and tightropes set high amongst the trees; ParaJump, a free-fall parachute simulator; and MegaBounce, a trampoline with a system of elastic "powercords" that allows participants to make higher-than-normal jumps safely.
MegaZip Adventure Park Map and Location
Imbiah Hill Road – Sentosa Island, Singapore
---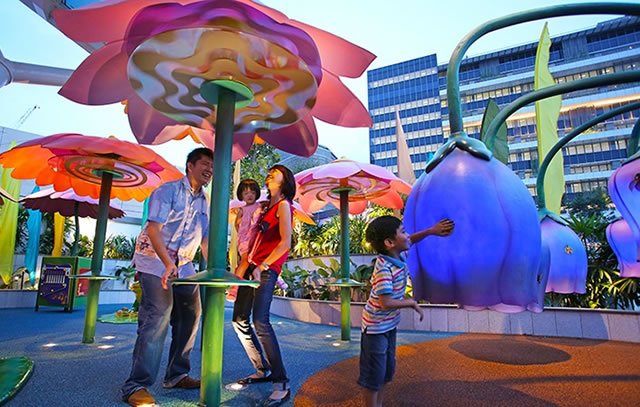 Singapore has many malls and shopping centers with free play areas for your children. These playgrounds are perfect to let the kids entertain themselves while parents take a break from shopping. Click here to see two of the best free outdoor playgrounds at shopping malls in Singapore.
---
---
If you are looking for a quality time activity with your kids, try kite flying. The Marina Barrage open rooftop garden is a perfect spot to take your children to fly a kite, due to its location near the ocean where gusty winds come off the shoreline. In addition, from there you can enjoy a scenic view of Singapore's city skyline as a backdrop. It is possible to buy kites on a shop on the ground floor that stocks a wide variety of them, from angelfish, ladybirds, squids, snakes and many more. Marina Barrage is also home for a large water playground with dancing fountains. Your little ones can get very excited running through the fountains and even having a cool splashing time on the shallow pools. Click here for more.
Marina Barrage Map and Location
8 Marina Gardens Drive, Singapore 018951
---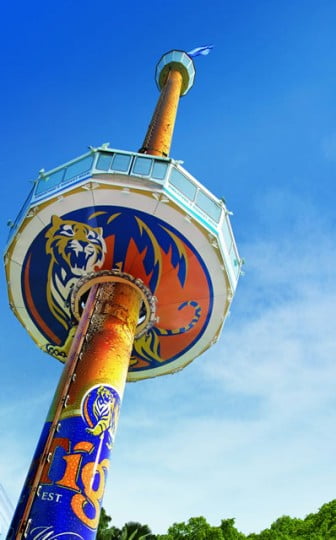 If your children are sky-high attraction lovers, than the Tiger Sky Tower is the right place to take them. A rotating glass cabin gradually slides up to the top of the highest viewing platform in Singapore. And when it reaches the highest point, the car freezes in the air for several minutes, while continuing to rotate. This allows getting 360-degree views of Sentosa Island at the height of 131 meters above sea level. Click here to see more!
Tiger SkyTower Map and Location
Imbiah Lookout
---
18 – Dragon Trail/Imbiah Trail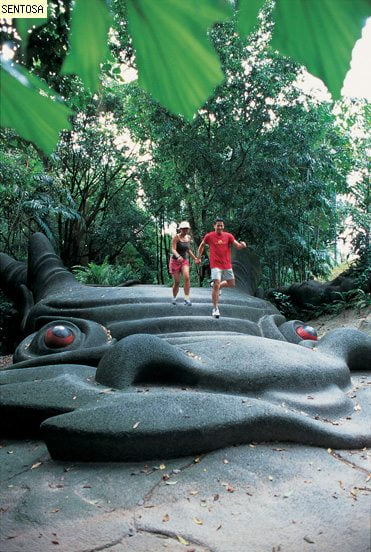 Dragon Trail is a 1.5-kilometer nature walk, easy even for small children. This is a place to take the kids if you want them to have contact with nature and fun at the same time. Just follow the path into the cool forest and look out for rare plants such as the "insect eating" to keep the kids interested. You may also catch sight of long-tailed macaques, squirrels, geckos, and over 20 species of birds. Also, to amuse the little ones, there are 'rocks' shaped like dragon's heads and bones along the trail, namely Twin, Rock and Earth Dragon. Each dragon has its own interesting legendary tale attached. Dragon Trail is also a good way to get down to Siloso Beach from the Siloso Cable Car arrival plaza. On the way, it is possible to get magnificent views of the Southern Islands from Mount Imbiah, a peak of 60 meters above sea level.
Dragon Trail/Imbiah Map and Location
Imbiah Trail – Mount Imbiah Nature Reserve, Sentosa
---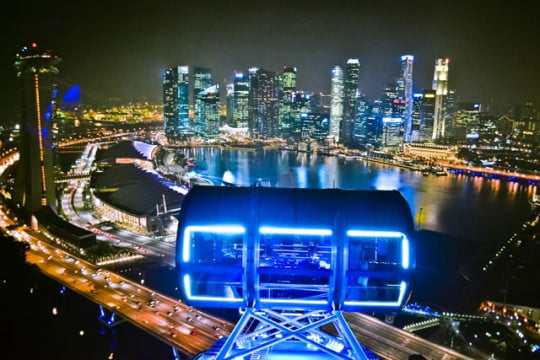 If your kids have no fear of heights, then take them up to a 30-minute ride on the Singapore Flyer, the world's tallest observation wheel until 2014. This "Ferris wheel" has 28 glass-walled capsules and stands at 165m tall, the height of a 42-storey building. There is no doubt it offers fabulous views across Singapore. Entertain the little ones asking them to spot Singapore's landmarks during the flight. Click here for more!
Singapore Flyer Map and Location
30 Raffles Ave, Singapore 039803
---