Bagan is home to the largest and densest concentration of Buddhist temples, pagodas, stupas and ruins in the world. Over 10,000 Buddhist temples were constructed in the Bagan plains during the 11th and 13th centuries. Covering a verdant area of 16 square miles (41 km²), more than 2,000 monuments of different sizes and shapes still survive to the present day. Most are superbly preserved, and many contain frescoes, carvings and statues of Buddha.
Old Bagan area also offers amazing opportunities to witness the Buddhism way of life, such as the morning meditation and the cutest little monks collecting their daily food donations from the community.
The most spectacular time to see Bagan's temples is during dawn and dusk, when the sunlight creates a mystical atmosphere. There are a number of temples you can climb up to watch sunrise and sunset. They make perfect viewpoints to watch the sun over the vast temple-dotted plains of Bagan. Another spectacular way to see the temples is to head to the sky for a hot air balloon trip. 
Nobody would be expected to visit all the 2,000 existing structures in Bagan. But there are some sites that should not be missed. So here is a list of the Top Must-See Places in Bagan to inspire you:
---
Top 13 Must-See Temples in Bagan
Built in the 11th century, the Gawdawpalin Pahto is one of the largest temples and, the second tallest temple in Bagan. In fact, it looks like a slightly smaller version of Thatbyinnyu, the tallest temple. See more
---
---
The Pahtothamya Temple (also spelt Pathothamya) is a small, single-storey temple located to the west of Thatbyinnyu and Nathlaung Kyaung temples. One of the oldest temples in Bagan, its interior is dimly lit, typical of the early type of Pyu-influenced temples with their small, perforated stone windows. See more
---
The Nat Taung Kyaung Monastery (also known as Myoe Daung) is a quite recent building. It is a wooden monastery built in the 18th century, known by its detailed and beautiful wood carvings. See more
---
With a design very close to the Htilominlo and Sulamani temples, the Thatbyinnyu differs from those and many other structures in Bagan because of its white and grey façade. See more
---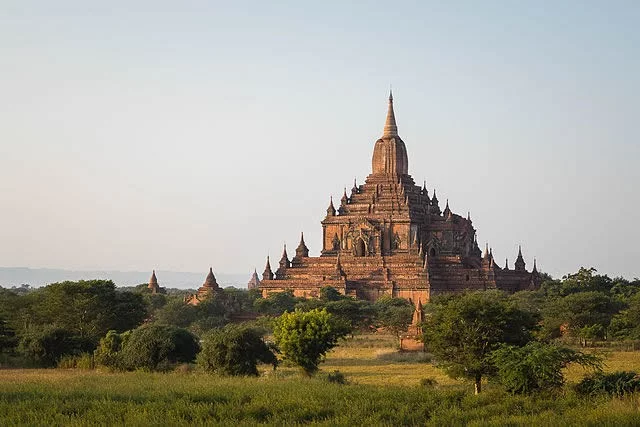 The Sulamani is a beautiful temple where the sun's rays shine through the outer arches onto the central core, creating a beautiful and warming glow. It was also known as crowing jewel and it is one of the most notorious temples in Bagan. See more
---
---
Among Bagan's temples, Shwesandaw Pagoda is one of the highest, and that makes it one of the most famous viewpoints of the region. This imposing Buddhist structure is visible from far away rising from the plains of Bagan. See more
---
The Shwezigon (or Shwezigon Paya) is a 11th century pagoda and one of Bagan's top destinations. Sitting on the top of the three terraces there is a beautiful bell shape structure (or stupa) which became a model to be followed in the later religious structures in Myanmar. See more
---
The Shinbinthalyaung is a long, low, rectangular brick structure that houses the biggest reclining image of the Buddha in Bagan, a colossal 18-meter-long (60 feet) image of the 11th century. This temple is very unusual because it is barely wide enough to house the statue, leaving only a fairly narrow passageway around the Buddha. See more
---
---
Probably not the most beautiful temple in Bagan, and clearly not the biggest, but the Nanpaya Temple is full of beautiful stone carvings with some history under the hood. See more
---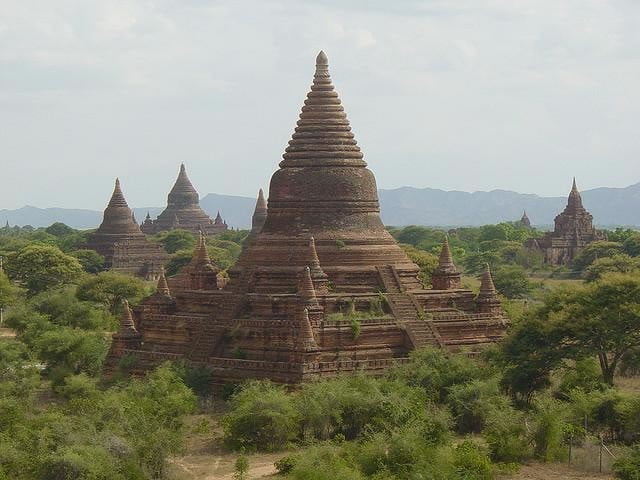 Mingalazedi Pagoda (also known as Mingalar Zed) is a Buddhist bell-shaped stupa built in 1274 by king Narathihapati at the end of the First Burmese Empire. It still preserves the beautiful glazed terracotta tiles with the Jataka legends around the terraces. See more
---
Htilominlo Temple is known as the last Myanmar style temple built. It was built during the reign of King Htilominlo (also known as Nandaungmya) in 1218. This 46-meter-high (151 feet) Buddhist temple has three stores, was built using red brick and is similar in design to the earlier Sulamani Pahto and Gawdawpalin temples. See more
---
Dhammayangyi Temple is the largest of all the temples in Bagan, extending approximately 255 feet on each of its four sides. Oriented toward the east, the temple has four entrances at the cardinal directions, each containing a seated Buddha image on a pedestal, resembling the Ananda Temple also in Bagan. The Western sanctum contains images of the Gautama Buddha and the future Maitreya Buddha, side by side. See more
---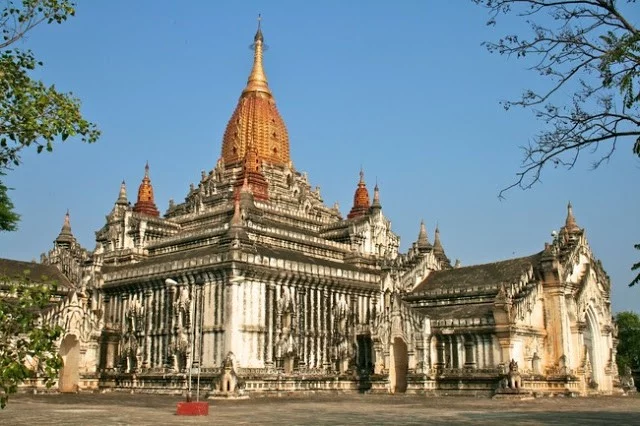 The Ananda Temple is a Buddhist temple built in 1105 AD. It is one of the most well-preserved structures of the Mon architecture. It is also known as the finest and most revered among all temples in Bagan. With a structure of a simple corridor, the Ananda Temple was built in a perfect cross shape design with four devotional halls, each on one side, facing the four cardinal points, north, south, east and west with a main hall in the center. See more